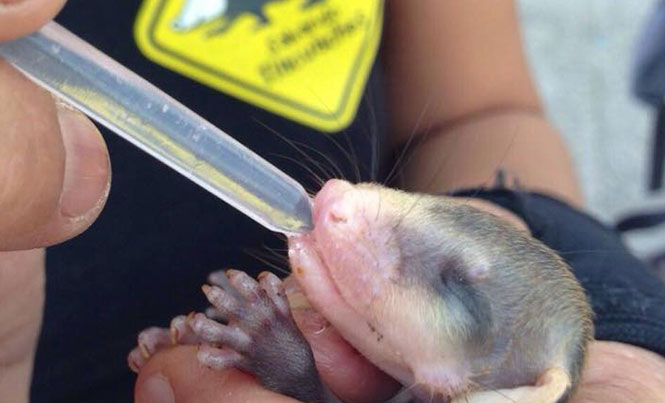 Known here as Tlacuaches, these cute little guys help keep the environment clean. Claudia Gonzalez Camacho rescues them and educates people to promote their wellbeing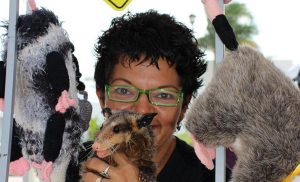 Many opossum, or tlacuaches, are tortured and killed by humans for no reason. They have been demonized by humans when, in fact, they are harmless creatures that help keep the environment clean by eating everything from bugs, cockroaches, to carcasses and garbage.
Claudia Gonzalez Camacho is a musician, educator, storyteller and animal rescuer from Puerto Morelos, who has a passion for the opossum. She has been rescuing and rehabilitating injured opossum for five years. Opossums are often found after being hit by a car or tortured by humans, and some females are found with babies in their pouch. Claudia, along with Eugenia Poblete, will take opossum in for medical treatment, raise funds to cover the expenses, and if the mother does not survive, she will bottle-feed the young, teach them how to survive in the wild, and when they are developed, release them back to the wild. It is a huge undertaking feeding the young, as they require special formula and eat constantly.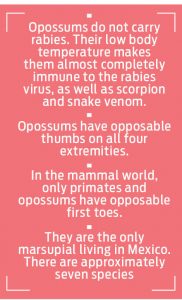 Once a week, Claudia gives talks at schools to educate children about the opossum, and she has some useful resources like music and games. She plays the guitar and the ukulele and has written songs to create awareness. She has even created plush characters to show the physical characteristics of the opossum. The children meet a live opossum and are reminded they should not be kept as pets. Claudia also speaks to adult citizens of Playa del Carmen and gives a lecture once a month on the species, to change the beliefs people have about the animal.
Claudia makes crochet opossums, which she sells to subsidize the expenses of rescue. Each animal comes with an adoption certificate and information about the opossum. She does all she can to fight for their survival through songs, video, lectures and social media.
Although, they are not on the endangered animals list, yet it is reported that there is only 30% of the population there once was. Of course, there are natural predators for the opossum but, man is an unnecessary threat.
Claudia reminds us it is and offense to disturb or injure wildlife.
If you encounter an injured opossum call Claudia at 998-135-3257 or 998-154-0863