People
Life Stories: Karen Russo
This native New Yorker moved to Playa looking for a calmer lifestyle and now finds herself competing against 30-year-olds...in triathlons!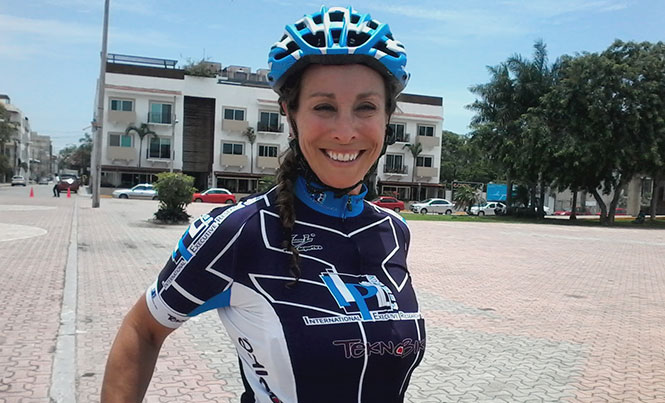 Playa del Carmen is a cosmopolitan city, where the large part of the population comes from other cities in the Mexican Republic and even other countries.
Looking for new work opportunities, a lifestyle change, or simply attracted by the beauty of the destination, thousands of people have made this their home. This was the case for Karen Russo, a native New Yorker, who has lived in the Riviera Maya for nine years.
Three years ago, she developed her life motto "If you want it, you can do it", as she practices cycling and triathlon, ranking first place in competitions. She competes at the same level as 30-year-olds, thanks to her healthy lifestyle.
Why did you decide to come to live in Playa del Carmen?
I wanted to change my life, with a different culture, a calmer lifestyle. I am a recruiter for the company IIPE, so I only need a telephone and computer to work. People here are very nice, kind, and generous because when I came, I didn't speak any Spanish.
How did you decide to start cycling professionally?
Before, I used to use a bicycle to get around. I learned with people here because riding with a group on the highway is different. Security is the most important in learning to ride in a group. I swim a lot, and my boyfriend bought me a bicycle for a triathlon. The group I ride with is Tecnobike. We practice on Tuesdays, Wednesdays, and Saturdays in the morning.
Have you participated in competitions?
Three years ago I participated for the first time in a triathlon in Tres Ríos. This year I won third place in Tres Ríos. Two years ago in Puerto Morelos, I also won third place and this week I participated in Blackout Chetumal and won second place. I feel like I'm 35 since I have more energy, I sleep well, and I exercise.
What is your message for women who sometimes don't have time to exercise?
I have a son who is 24. I divorced when he was a baby. I had to do housework and businesses. It is hard. Life is hard, but you should take care of your body because you only have one in your life. There is a group of women who practice Fridays at six a.m. because they have children. They need to fix their lunch for school, they work, and it is interesting because they have the responsibility of their jobs and the housework. We do 40 kilometers each day.
How many kilometers do you ride?
With the beginners group, we do 60 kilometers. With the others, we do 80. Sometimes, we go all the way to Chichén Itza, Valladolid and Tulum.
Karen ended the interview with the following message: If you want it, you can do it. It is important, as a woman, to take care of your body and have a healthy life. This makes you more confident; "You can do what you want if you put your mind to it and try."