People
A Magical Maya Mystery Tour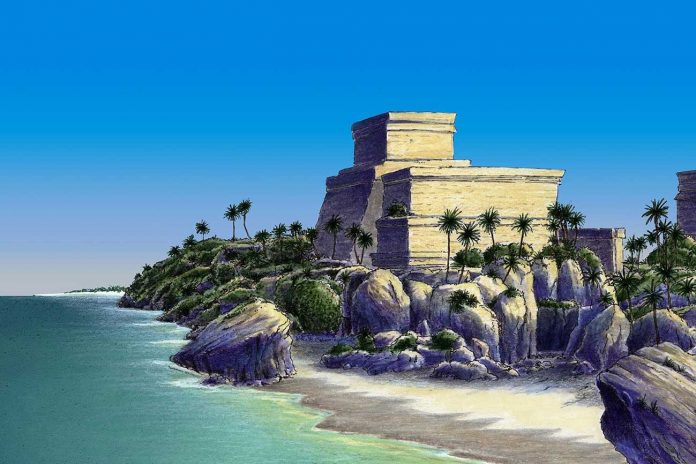 Inspired while traveling through Mexico on his way to South America in 1975, Steve Radzi began a lifelong passion for education and drawing
Follow us on a road trip with Steve Radzi, whose talented hands re-create the Maya ruins, making us believe that we are actually there. Born in Poland and raised in England, where he attended boarding school and Croydon College of Art, after graduation he traveled through Europe, the Middle East, Far East and Australia, but after a few months of working in the bush, he headed back home, sketching along the way.
Where did your adventures take you?
I worked for various animation companies in California, securing a job at Hanna-Barbera Studios in Burbank, creating the background art for the Yogi Bear TV-series. Then, the travel bug took hold again and I traveled to Bolivia, ending up in the Peruvian Andes, living outside of Cuzco in a small village named Ollantaytambo, where I created a comic strip entitled "The Chicha Robbers of Ollanta".
What was the catalyst for your adventure of drawing the Maya ruins?
On my way to South America in 1975, I passed through Monte Alban and Mitla before arriving in Guatemala City, where I met a German friend. We traveled a lesser-known route, during unsettling times in the region, via Coban and the Pasion River, ending up at Tikal's ruins. My first impressions there became a lifelong passion for education and drawing. I have also sketched in the Far East, Thailand, Bali, India and Afghanistan.
Was there an influence that pointed you in the direction of art?
I have been drawing since I was a child. My father was a Major in the Polish Cavalry, loved to draw horses and was wounded twice, including injuries to his right arm that led to amputation, so my close family relatives to this day will say that 'I was born with my father's right arm.' Mr. Enright, an art teacher, taught me various techniques and styles using charcoal, water colors and oil paints.
A-magical-Maya-2How do your drawings develop?
I make preliminary sketches with pencils on location, wearing light gloves in order not to dampen the paper. It's important to grasp the image and get a real feeling for the location that you're about to create. I often use photographs as backup for elements I may have missed or unsure of and invariably transform the sketches into pen and ink-line drawings, coloring some.
Where can people find your artwork?
Note cards and prints of my work can be ordered online at www.mayavision.com, including my most recent set of illustrated note cards entitled 'Ancient Maya Sites of the Caribbean Coast'. These include some rare and wonderful structures that are hard to visit. I have had several Florida exhibitions and I'm giving a talk at the Conference 'Maya at the Playa' in Northern Florida in September. Images of my work can also be purchased at imagekind.com/mayavision.
STEVE IS CURRENTLY SEEKING A MEXICAN DISTRIBUTOR AND A VENUE ALONG THE RIVIERA MAYA TO EXHIBIT HIS WORK. ONCE WE HAVE AN UPDATE, WE WILL SHARE IT WITH OUR READERS.
[/vc_column_text][/vc_column][/vc_row]