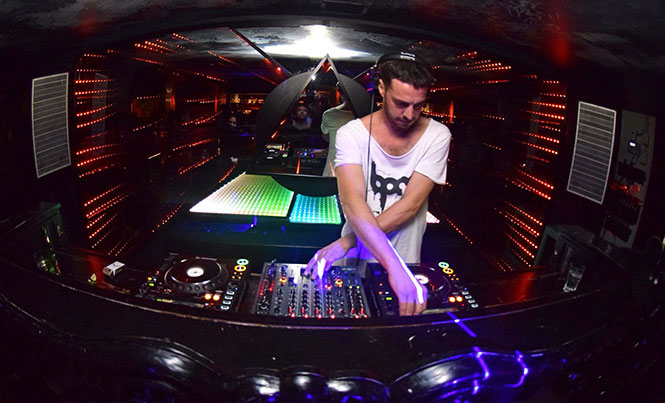 Meet Jeff Gold, a Canadian DJ and now the owner of a unique business in Playa: Spinny Grooves record shop   
While many talented musicians in Playa focus on work, you will find that there are some with a passion that turns into a business. Jeff Gold is one of them. He is a DJ and the owner of Spinny Grooves record shop. I met with Jeff to get to know him better.  Now it is your turn.
The Playa Times: Where are you originally from and how did you find yourself in Playa del Carmen? How long have you been here?
Jeff: I was born in Calgary, Canada and spent my late teens bouncing between there and Edmonton. I later moved to Toronto for a year, then to Montreal for about nine years. I have been living here in Playa for seven years.
You are a professional DJ and business owner here in Playa del Carmen. Do you feel it is easy to run a business in a foreign country?
There are many challenges here, but they all have a solution. The people in Playa have helped make it easier; they have shown amazing support since we opened.
There are many genres of DJ music, what type of music do you call your own?
I like all music, but I really love to play deep house and deep techno music.
What is the name of your business and how long has it been open?
It's called "Spinny Grooves," and we opened up in July.  Currently, it is Playa's only music and DJ store. We specialize in vinyl records, with genres from classical to techno and a little bit of everything in between. There is also a small section for CDs and cassettes.  We also sell local art, clothing, and electronics and offer vinyl DJing and music production classes.
What advice would you give to anyone who wants to start a business in Playa?
Get a feel for the city and make sure you find a good location for what you want to open.
How is DJing different from your past ventures?
Well, I have been DJing for over 17 years now, but I have found at the root of everything the same things are needed: a vision, a plan and the motivation to see it through.
To learn more about Jeff visit his Facebook Fan Page: Facebook/@4djjg or listen to his work: http://soundcloud.com/jeffgold
The Facebook Page for Spinny Grooves is: Facebook/@spinnygrooves