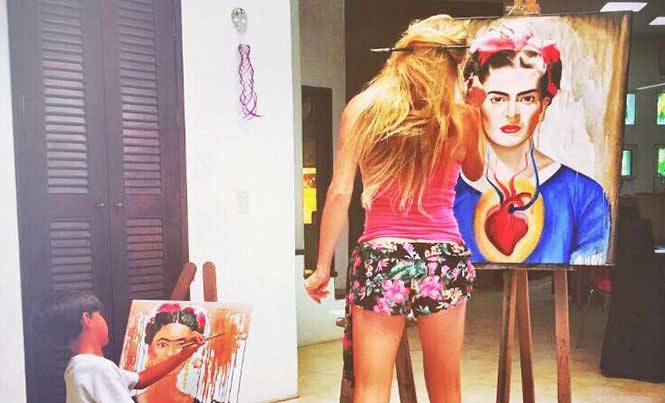 Meet the Italian fashion designer turned local portrait artist, Elisa Palchetti
Elisa Palchetti is a local artist who lives in Puerto Aventuras. Although she loves art, she also has a full-time job as a mom caring for her two sons.  I spoke with Elisa to find out why she left her home country of Italy and moved to the Riviera Maya.
The Playa Times: Where are you from and how did you end up in Puerto Aventuras?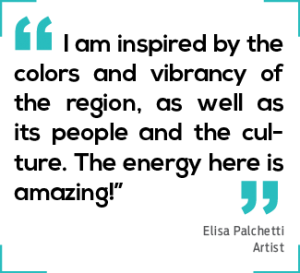 Elisa: I was born and raised in Florence, Italy. I was working as a fashion designer, but I found myself unhappy in the fashion industry, so I traveled to Mexico where I began painting. I was inspired by the beauty of this place, as well as the colors of nature and the kindness of the people I met. After the birth of my two sons, I decided to move to Puerto Aventuras so that they would have a better education in a more international environment.
What kind of art do you do?
I mainly do portraits of people on request, as well as pets. The medium I use is oil. I am currently illustrating a children's book and volunteering with the Dreams of Mayan Children organization. I'm creating a mural at their local school and doing face painting with the students.
What inspired you to use this medium and how did you learn it?
I have a fashion illustration background, but I am mainly self-taught. I think that by using oil I can better capture the spirituality of the subject I am painting.  
What are the highlights and challenges of this talent in the Riviera Maya and how do you overcome them?
I was a busy mom and was painting as a hobby, and only recently decided to try it out professionally. It is a challenge here because the community is small and there are not many outlets to show my work, except by word of mouth. It also is a problem finding the time. I have two boys who are busy with many activities and I am pregnant with my third child.
How has the Riviera Maya inspired the designs of your paintings and murals?
I am inspired by the colors and vibrancy of the region, as well as its people and the culture. The energy here is amazing!
What has been the most fun part of starting this venture?
I think it is when I see the reactions of the people when I present the portraits of themselves or their loved ones. I also enjoy seeing my kids be proud of their momma.
When you are not busy with the daily life of your art, what do you enjoy doing with your free time?
I love traveling and exploring new cities, they are a constant inspiration to me. I also enjoy spending time with my sons and helping them to explore their special talents and passions.
You can check our Elisa's work and contact her through her Facebook Fan Page: Elisa Palchetti portraits.