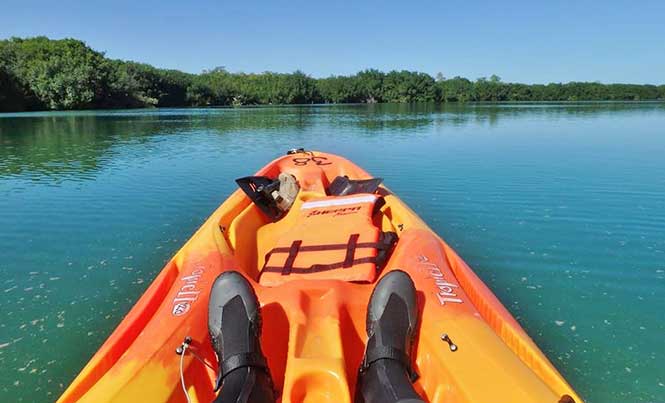 Exploring the Cancun lagoon in a way that's healthy for humans and healthy for nature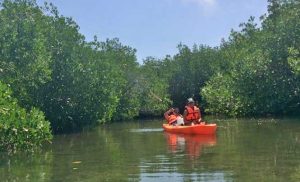 Human activity has made a severe impact on Nichupté Lagoon, especially those related to fuel-powered engines: yachts, wave-runners and other types of boats. Most of these machines are not in top condition, and the burned oil that they release affects the mangroves, the habitat of hundreds of marine species, and the underground water table itself.
Thinking that human activity will stop on Nichupté is naïve, but we can definitely move towards healthier options, for the lagoon and ourselves. I met Camila Pulido from Conexión Nativa Kayak Tours to learn about kayaking in the lagoon. It is the best way to experience the lagoon without causing a negative impact, while building up your biceps in the process.

Conexión Nativa (native connection) is a group of local kayakers offering new ecologically conscious alternatives for visiting the lagoon. They want people to see that it is not a lost cause, and that Nichupté is still alive and safe. The tour includes a visit to a Cancun connoisseur's spot inside the lagoon, a small beach called Playa Conchitas (Little Shell Beach). You may even find love in the Laguna del Amor springs.
A great thing about kayaking is that you can collect garbage floating around and rescue any creature that might need a hand. They even saved a couple of crocodiles recently. That's the idea behind it all of this, to put you in touch with your native spirit.
Contact Alfredo (9981499001) and book a visit with friends to the heart of the Nichupté Lagoon. Conexión Nativa also do kayak trips to Isla Blanca, one of The Playa Times' favorite places. They'll take you to see the flamingos and other fantastic birds and, only during this season, to see the bioluminescence, so don't miss out!
Camila also collaborates with Wind & Wave Cancun Surf School. You can find them at Playa Chac-Mol if you want to learn how to catch a wave, or go for a paddle board visit to the lagoon. They are the coolest guys around.
@conexionnativa