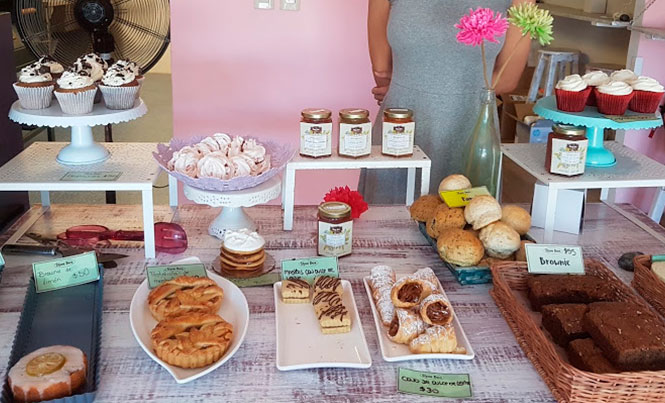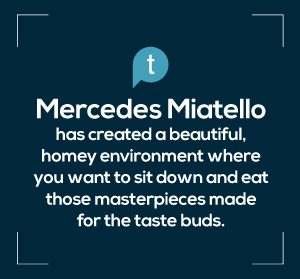 When you walk into Shoebox bakery you will find it is as quaint as its name.  From comforting quotes on the walls to gourmet yummies staring back at you from all sides, you will swoon, or at least your stomach will. Mercedes Miatello, from Argentina, has created a beautiful, homey environment where you want to sit down and eat those masterpieces made for the taste buds.
Mercedes first found herself here 15 years ago, so she has grown up in Playa. I was surprised to find out that her shop has only been opened for four months. Located in the plaza at Constituyentes and Avenue 10, it is an easy location from which to grow her already established clientele.
She began four years ago baking in the evenings when she got home from her full-time job. This wasn't work for her because it was something she enjoyed. She picked up customers pre-ordering and requesting custom treats for themselves and for events. The cute name came from her desire to stand out from the competition since she was just working out of her home. Her boyfriend, a graphic designer, created special boxes customized for the customer or event. The idea came from a gift of shoes from New York where the box was almost cuter than the shoes themselves.
When she became pregnant, her desire to stay home during her pregnancy and with the baby nourished her other baby, her dream. She had time to market via her website and Facebook page and ask her customers to recommend her by word of mouth. She was already known for her specialties from Argentina, Spain, France and other parts of Europe.
She wishes to create an ever-growing inventory which she alternates each day, including vegan for Fridays and gluten-free on various days. She says her main ingredient is love. You can feel that when you meet this charismatic owner and when you see the twinkle in her eye as she speaks about her specialties, especially her amazing cheesecake. She not only offers these to locals but also to tourists who come for an event or who want to send a special treat to family or friends they are visiting here. She loves to surprise with an unexpected custom delivery to a hotel for a special occasion!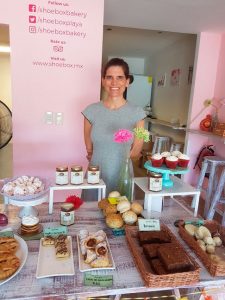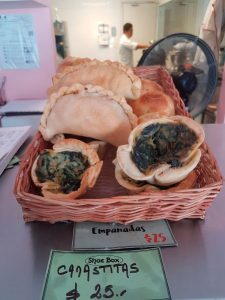 Try her sweet beauties, such as vegan brownies, cream puffs, marmalades and even ice cream!
Check out her Facebook Fan Page Facebook/ShoeboxBakery or her website at http://www.shoebox.mx/