Community
Organizations
Featured
Paradisus Leads the Way in Social Responsibility and Sustainable Development
Paradisus La Perla & La Esmeralda Resort Leads the Way in Social Responsibility and Sustainable Development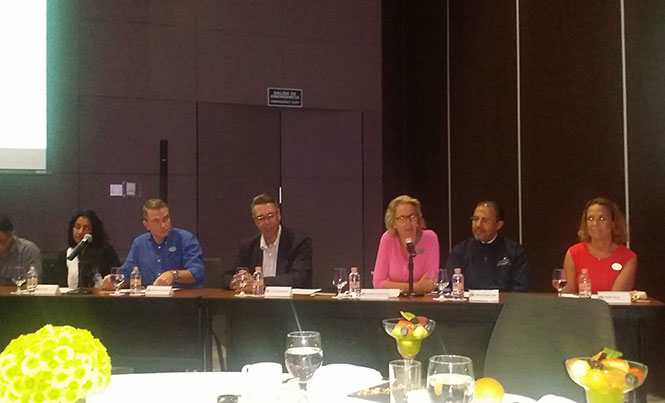 In order for a business to stand out these days, it takes more than excellent service, high quality products and new experiences. Modern enterprises need to go further and social responsibility and community spirit are the route that Paradisus La Perla & La Esmeralda Resort is taking to get there. This was my conclusion after an informative morning of breakfast and conversation there recently.
Joining General Manager Conrad Bergwerf was a team of familiar and new faces updating us on the resorts' accomplishments in 2017 and its projects for 2018. As we reported in The Playa Times last year, the resort has recruited more than 30 differently-abled employees. Mr. Bergwerf reported that this initiative has been a success beyond the management's expectations as such a diverse workforce has had additional benefits not just for their clients, but for their entire staff, as they share this dynamic and inclusive environment.
New team members include an executive chef who will continue to carry the baton of quality for Paradisus This focus on quality won them Wine Spectator Awards of Excellence for four of their restaurants, and a Best Award for Passion, the signature restaurant from Martin Berasategui, which is open to the public and is one of only eight restaurants in Mexico with five diamond awards from AAA.
The resort was the first at a national level to conduct a full hurricane simulation over several days in July 2017. Involving 1500 collaborators and the property's Brigada de Atencion Inmediata (First Response Brigade), the effort was recognised by local and national authorities.
Carlos Segura spoke on the hotel's numerous sustainable development projects. Paradisus currently holds Silver Level Certification from the UN in this area and is working at achieving Gold Level.
As part of the resort's ongoing commitment to UNICEF, a meeting is planned to present the organization with a check for $30,000 from recent fundraising activities.
The resort is working hard to reduce its carbon footprint and became a leader in environmentally friendly services. Three of their aims in this regard are to neutralize CO2 emissions, preserve the local aquifers and prevent erosion. Their CO2 production levels are constantly monitored in order to minimize them.
In cooperation with the local government, Aguakan, Calica and Sian Kaan, a campaign of sensibilisation and research is underway to improve the drainage system in the rapidly developing  Colosio neighbourhood.
Several other projects are also being discussed, such as improved recreation spaces and cycle paths for both Playenses and tourists.
With so many projects, in addition to the their continued efforts in offering ever higher quality for guests, 2018 already looks like a positive year for Paradisus and the local community they are obviously committed to.