Discover Mexico
Featured
Celebrating Women in Science: Vanessa Francisco – Marine Scientist
Florencia interviews one of her female colleagues working in science and the conservation of the Riviera Maya - Vanessa Francisco, a marine scientist based in Puerto Morelos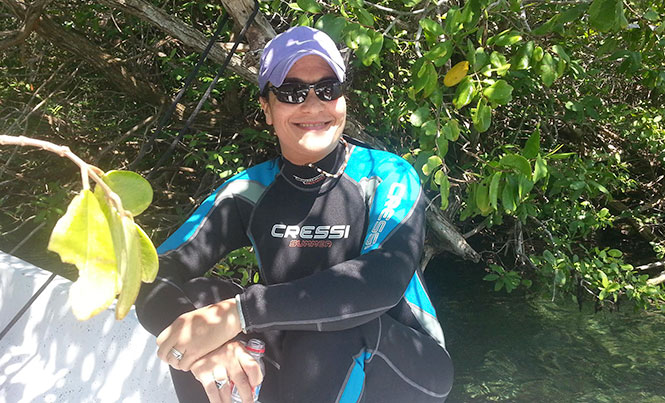 Women are gaining strength in all areas. Although there is a lot of work still to do to find equality of rights, treatment and societal expectations, women are also growing in number in professional areas that used to be (and still are in many places) male-dominant, like the biological sciences. Here is the story of a fellow scientist who comes from another country and is now using her amazing skill set and capacity to help protect our beautiful Riviera Maya.
Vanessa Francisco visited the Riviera years ago as a kid with her family. Back then, this area had less 'development', fewer tourists, healthier reef. The wide beaches of Cancun and the many tones of blue of the Caribbean ocean made her fall in love with the Riviera.
Vanessa is from Venezuela and studied biology there. She worked in laboratories of the Venezuelan oil industry; she worked in the Galapagos Islands, New Zealand, and Yucatan; she did a Masters and a PhD in marine sciences. After all this, she landed in Puerto Morelos in 2014 to work in the UN Program for Development with the Marine Park.
I'm always thrilled to share experiences with scientist colleagues. I speak often with fellow women scientists of many nationalities and some of the stories repeat regardless of backgrounds. I've asked this question to colleagues from Germany, USA, Ireland and I asked Vanessa too about what changes – if any – has she seen in her 20 years of experience in marine sciences. She too has seen many.
"It is indeed a tough career, but packed with satisfying experiences, so follow your dreams. The work in marine sciences often takes you to remote locations and you live experiences many people do not."

Vanessa Francisco / Marine Scientist
When Vanessa started, she worked in groups with a ratio of women to men of 2:20; she remembers being weary at the thought of working in fishermen's boats (it is part of the job of marine scientists at some point) with too many men or living in small and isolated islands with army soldiers. Nowadays there are a lot more women in science and conservation and these field trips are not as uncomfortable – or was it dangerous? – for women scientists.
We could likely talk for hours about our experiences in this topic, but to finish I asked her what message she would give to those girls and women who are passionate about science, but feel anxious about following this path. She told me, "It is indeed a tough career, but packed with satisfying experiences, so follow your dreams. The work in marine sciences often takes you to remote locations and you live experiences many people do not. You work, breathe, think and dance for a blue planet, and that's the most satisfactory experience you would take with you at the end."