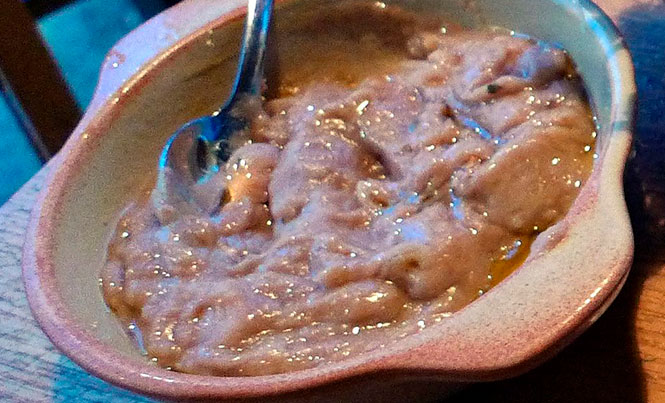 Ingredients
Step 1
1 kilo of dry beans – black, pinto, your favorite!
½ medium onion
5 garlic cloves
5 branches of epazote.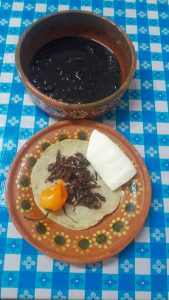 Soak the dry beans overnight in a bowl with water. This is a very important step, not only because they will cook faster, but also because you remove anti-nutrients present in some foods like beans. The next day discard the water, and in a big and deep pot add 4 liters of water, beans, onion and garlic. Let them boil softly for about 1 to 1½ hours. Now add epazote and salt to taste, let them boil for another 10 minutes and let them cool off.
Step 2
1/8 medium white onion finely chopped
2 finely chopped garlic cloves
1/3 cup of chopped epazote
1 chile serrano, seedless and finely chopped
2 tablespoons pork lard
In a frying pan, add the onion and fry in lard until it looks translucent. Add the garlic, chile and epazote, and once you can smell the frying garlic, add the beans with very little of their own broth. Stir and mix with the onion and garlic, and now start to press them, until they are pureed. Keep stirring for a little while on the stove on a medium/low heat, and once enough liquid has evaporated (your spoon will stand still), they are ready.
The best way to enjoy them of course will be in a taco with freshly made tortillas (if you don´t know how to prepare them send us an email). Add a delicious green or red salsa, Oaxacan cheese or panela and a nice guacamole. Enjoy! Any questions?
Please let me know at riverakitchentulum@ gmail.com
Lily Espinosa, Rivera Kitchen Tulum, Mexican Cooking Classes and Culinary Tours