Animal Welfare
Beads for Lives Helps Raise Funds for Animal Shelters in Playa del Carmen
Discover how you can design your own bead bracelet, have it handmade and your payment will be 100% donated to the animal welfare charity of your choice.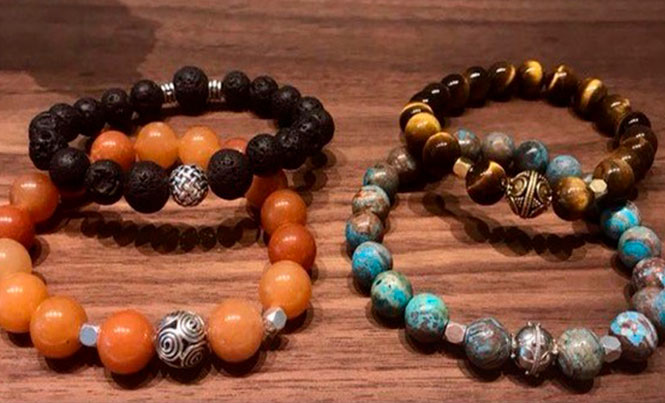 Colombian-born Astrid Ramirez and her husband Sebastian Labno live in Canada running a property development company, but on several visits to the area they have become involved in one of their great life passions – animal welfare.
Astrid first became involved at an animal rescue center on Cozumel island over seven years ago and has since volunteered with Mexipaws – a volunteer based non-profit dog fostering program based on the Riviera Maya that also runs annual sterilization and neutering campaigns. They have fostered over seventy dogs, of which two have remained in their care. One they fell in love with, and the second was so traumatized and scared of humans they realized it would be impossible to re-home. So with time and great gentleness they managed to gain its trust and give it a loving home.
Following the purchase of two designer brand bead bracelets last year, Sebastian was surprised at their cost. He suggested to Astrid that they could source the same natural stone and precious metal beads and raise more funds for the animal charities in the Riviera Maya and for a lot less money. From these humble beginnings a project was born.  Last April Astrid put up a Facebook page asking people to purchase the beautiful bead bracelets they were making, with 100% of the payment going to the animal charity of the donor's choice. Now approaching their first anniversary, what started as something they thought would run for a couple of months has raised $10,000 USD to help cats and dogs in the area.
As I write, Astrid is finishing her 200th bracelet. People can design their bracelet and pay directly to their chosen cause. If you are unsure, Astrid will guide you to a charity which has urgent current needs. She told me "The one constant in my life has been helping dogs and the most beautiful part is the opportunity to be there for a dog that may come from a terrible situation and see it become healthy and ready for adoption".
You can see Beads for Lives and order via their Facebook page. Donations have helped save lives at Mexipaws, Coco's Animal Welfare, Help Tulum Dogs, Playa Animal Rescue, The Snoopi Project, Humane Society of Cozumel Island, Riviera Rescue, Mi Amigo de la Calle, Roz's Kitty Kottage and Tierra de Animales.  
Wearing something beautiful on your arm never felt so good.