Foodies
If Food Could Talk: Holy Mole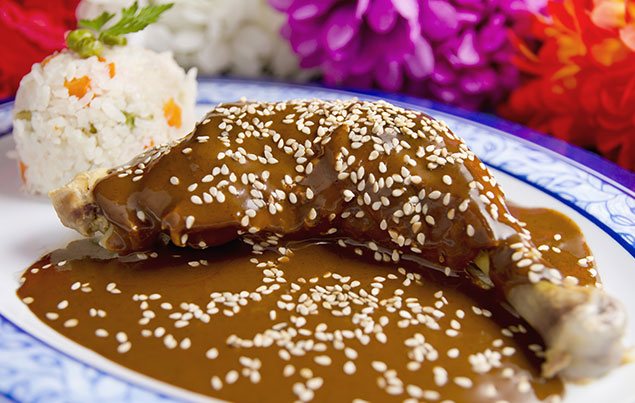 We take a look at eight varieties of Mexico's most popular sauce that you may encounter on your travels throughout Mexico
Mole negro

is a complex Oaxacan recipe, with an ebony shade due to a deep charring of  

pasilla, mulato, ancho

and

guajillo

chiles. Add cumin, clove, cinnamon, thyme, marjoram, oregano, fresh or dried avocado leaves (which lend an anise-y flavor), onion, garlic, and tomato. Thicken with tortillas. It has the trio of flavors: spicy, bitter and sweet.

Mole Colorado/rojo

starts with a base of a

ncho, costeño rojo, chilhuacle rojo,

black pepper, clove, oregano, onion, garlic, ground almonds, sesame, and chocolate. It is usually thickened with a bit of masa. This red mole has an intense spiciness.

Mole verde/pipián verde

is a bright green mole and combines ground squash seeds, pepitas, sesame seeds, cilantro, parsley, epazote,

hierba santa

, chilies, and

tomatillos

. The sauce can be smooth or have a slightly granular texture. This sauce is more flavorful than spicy.

Mole amarillo

receives its yellow hues by pulverizing

costeño

and

chilhuacle amarillo, guajillo chiles

, tomato,

tomatillo

, onion, and garlic, followed by cloves, black pepper, oregano, avocado leaves, and

achiote

. It is a savory mole and when used with pork,

hoja santa

is often added.

Manchamanteles

(the word for tablecloths in Spanish) with its vivid, scarlet color is a danger to any tablecloth it is served on. This is basically a

mole rojo

but the addition of pineapple, apple, sweet potato or plantain gives it a hint of sweetness.

Mole blanco or mole de novia

gets its unique white color by grinding almonds, peanuts, pine nuts, sesame seeds, garlic, onion and a handful of yellow or orange chilies, creating a rich and nutty flavor with a dash of heat. Veracruz's version of

mole de novia

is also called

mole de xico

, but it is jet black.