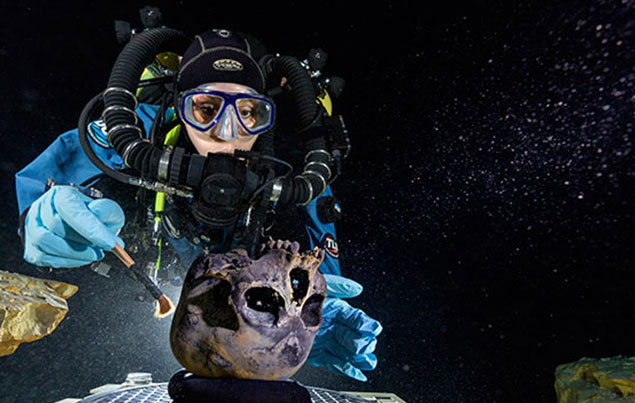 Archeologists and investigators are exploring the underground world in the hopes of uncovering key remains to help understand the history of the region
To discover the past of this region, the Institute of Prehistoric Investigation of America has prepared a series of tours through the underground river system.
In and around Tulum, there are three of the biggest underground caves in the world, and it is estimated that they are hiding artifacts from the Ice Age and the arrival of man to the Yucatan peninsula 10,000 years ago.
According to  Eugenio Aceves, director of the Prehistoric Museum, only 15 percent of the existing caves have been discovered, despite the ongoing explorations.
The good thing is that more and more people are joining the project because of the interest in artifacts.
Aceves indicated that six or seven caves are slated to be explored, including the Balam cenote that is in the community of Uxuxubi, where the locals hired divers to explore the cenote to promote it as part of their tourist attractions.
This exploration was found to have diverse remains, and it is hoped the 2016 explorations bring good results.
Thanks to the findings of Ice Age animals in Tulum, such as mastodons and saber tooth tigers, along with the 10,000-year-old human remains, like the Naharon Woman and the Palmas Woman, more and more archeologists, investigators and divers are attracted to explore in the area.
Eugenio Aceves did not discard the idea that new technologies could be used from the surface of the underground rivers.
"We are just starting. Because of the richness of the cenotes, there is no other option, the Riviera Maya is the number one diving destination, and more cenotes are being discovered," he stated.