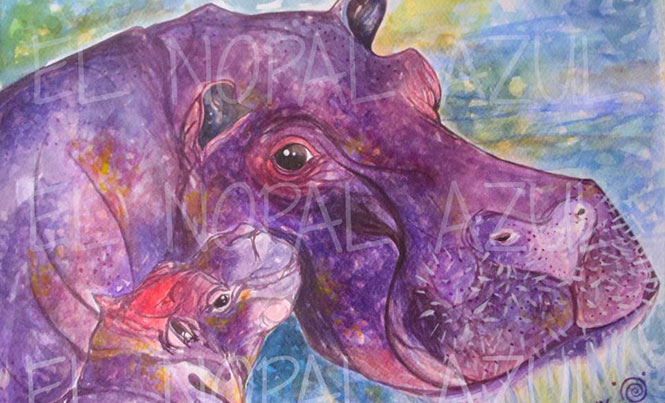 Brenda Mendez is a young, talented artist here in Playa del Carmen, originally from Mexico City. She knew when she was in kindergarten that she was an artist. Brenda studied art at Museo de la Caricatura in Mexico City, working towards her dreams of becoming a newspaper illustrator until she found her niche, creating beautiful cartoons of people's pets
Brenda has been creating her art in Playa for 3 years, her company name is Arte El Nopal Azul. You can commission her to create a personal portrait of humans or animals. Most requests for her work are for pet cartoons.
She is active in animal welfare and will help in any way she can through her art. In fact, many of the adoption groups or sterilization clinics use Brenda's cartoons for promotion and awareness campaigns. She saw a chance to change the way publications were done, and instead of using disturbing photos of abused or injured animals she created her cartoons to relay the message and bringing awareness. For the sake of animal welfare, she does not copyright those drawings and may be used by whichever organization is helping animals. Mexico provides the majority of her customers, but her art is also being purchased in Peru, Spain, the U.S, and Chile.
Her art has graced the cover of a Chilean magazine called Que Patudos. Thanks to social media her popularity continues to grow internationally.
Starting out in watercolor portraits, she realized that by using ink and digital technology she could reach more clients and cut the cost of delivery. Watercolor paintings and ballpoint pen artworks are still available, but most people request the digital work if they are not here in town.
The birth of the multicolored animal cartoons began when a client made a special request for purple hippos. It turned out beautiful and that was the beginning of a new treatment for the cartoons.  From then on all her designs were bright and colorful.
What does she love about this job? Getting to know the client and their pets, hearing them describe their pet's personality, then taking what she learns and creating the portrait. The greatest reward of all is hearing the emotions of the client once they see the final product. Many close friendships have been built through her art.
For more information, check her out on Facebook/Arte El Nopal Azul