Foodies
Mo, Mo, Mojitos!
Sure, we may be in Mexico but that doesn't mean we can't enjoy this deliciously cool Cuban cocktail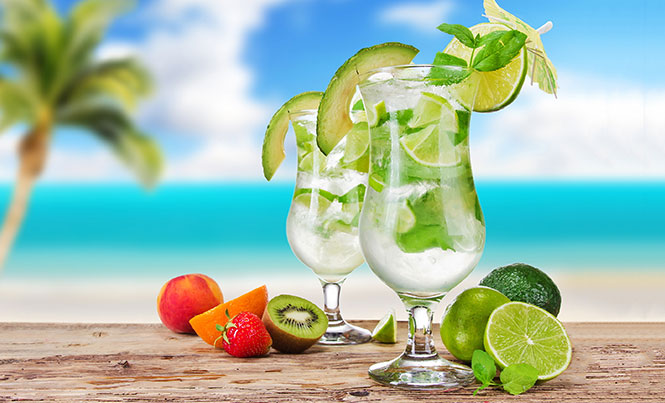 Originating in Havana, Cuba, the mojito cocktail has gained popularity the world over. Comprising white rum, sugar, lime juice, sparkling water and mint in a highball glass, the secret to a great mojito is the gentle 'mashing' of the lime, sugar and mint with a muddler. This bruises the mint leaves releasing the plant's potent essential oils.
My first experience of this zesty cocktail was in a small Cuban bar in Cozumel around 14 years ago. Possibly the best mojito I've tasted; the tang of the lime, the crushed fresh mint, the perfect balance between sour and sweet. I was instantly a fan. Was it because it was my first? Or, was it really that fantastic?
Here in Playa del Carmen, the first bar that comes to mind when I think of a mojito is, of course, La Bodeguita del Medio on Quinta Avenida and Calle 38. This lively, Cuban salsa bar boasts mojitos in a range of flavors in addition to the classic, sip away while enjoying the ambience of live music and salsa.
The Roof Bar on Quinta Avenida between Calle 4 and 6, is a cozy spot above the 5th Avenue crowds; great for people watching with friendly, personal service and an excellent classic mojito at a very fair price.
If you like a little flair to your mojito, head down to Ula Gula Bar & Restaurant located on Quinta Avenida and Calle 10. Try the mojito de jengibre (ginger mojito) or the mojito de sandía (Watermelon Mojito).
A noodle bar may not be the first place you'd think of to go for a mojito, but if you're a fan of basil flavored cocktails (which I certainly am), be sure to stop by Babe's Noodles & Bar, Calle 10 between Quinta Avenida and Avenida 10 for a mojito con albahaca (basil mojito), you won't be disappointed.
I would be doing you a disservice if I didn't include the location of that first wonderful mojito I enjoyed many years ago. If memory serves me correctly, I believe it was at La Casa Del Mojito, Quinta Avenida between Rosado Salas y 3 Centro Sur, Cozumel.