Live Music: Guru Love
Living proof of the magic of Tulum, this band was founded when its five members met on the beach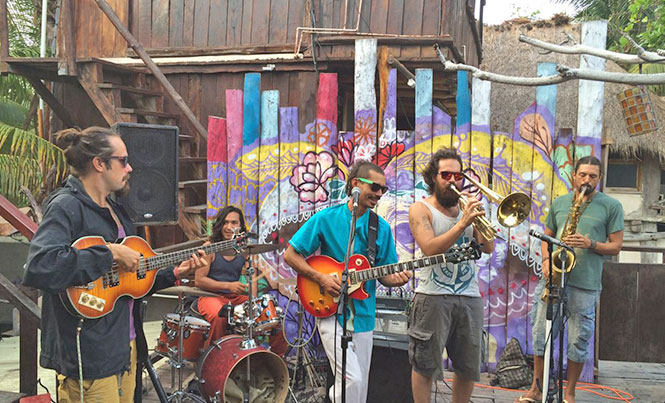 Walking through the pueblo of Tulum, you may come across some rhythms that will get your body moving without intention. If you are lucky, these beats will be coming from a current band there called Guru Love. They grabbed my attention at El Curnadero when I noticed a larger band setting up and taking out less played instruments, such as a trombone and saxophone. I just had a feeling that they had something special to offer.  I was right.
Their unique music is inspired by personal experiences which they translate into a fusion of ska, calypso, reggae, funk, jazz, rock, bossa nova and others. Their sounds erase borders by combining North and South American and Caribbean music which they make their own with a perfect recipe of guitar, bass, trombone, saxophone and drums.
Guru Love is a product of the magic of Tulum because they actually met on the beaches of Tulum on one of its infamous sunny days just four months ago! The band is made up of five members from Mexico, Brazil, and Argentina but they like to say they are citizens of the world. Tulum is a perfect spot to emit their message of love since it is a hub for people from all over the world.  
The name Guru Love has as much meaning as the inspiration for their music.  Their goal is to always do things consciously in the presence of love.  A love guru guides with peace and wisdom. This also fits into the experience of being in Tulum. The magic there has blessed them to extend their stay from the winter because of the demand for their music. You can find them playing at the hottest spots in Tulum such as El Curandero, Pancho Villa, Batey, La Maquina , and Mateos Bar.