The Results Are In!
Another hugely successful Seaside Rotary Golf Tournament was held Saturday, April 9 at the Hard Rock Golf Club in Playacar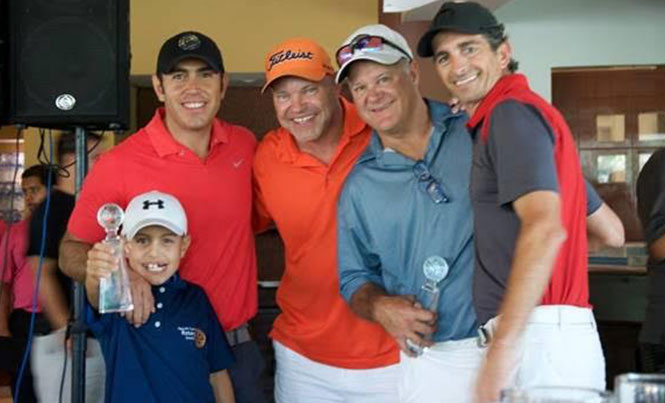 As the sun set on Saturday, April 9 and the 4th annual Seaside Rotary Golf Tournament, presented by Tequila Barrel and held at the Hard Rock Golf Club in Playacar, minds were already busy planning next year's event. After a ton of work, this year's fundraiser started with a bang when 80 golfers enjoyed a hearty breakfast at the Golf Club, catered by Basic Foodie and Das Brot, the perfect start of a lively and prize‐loaded event.
As per the Rotary's estimate $285,000 MXN were raised between the Golf Classic and the Rotary's auction, sponsored by Condo Hotels, with over 177 prizes from 115 sponsors totaling more than $300,000 MXN. An achievement to be proud of especially since the amount raised this year looks to be about 50% higher than last year.
First place went to Marcus Rhoemer, Sergio Rodriguez, Jeff Johnston, and Dan Palka, making it a three–peat for this foursome. In second place was the team of David Sanchez, Scott Lyall, Dan Petrin and Raoul Monroy. Right on their heels coming in third was the group of Franco Magnifico, Michael Yates, Phil Woodward and Doug Lavallee.
Prizes were given for:
Closest to the pin:

Alex Rodriguez, Richard Sykes and Dan Palka

Longest drive:

Luis Rivera with 278 yards

Straightest drive:

Richard Sykes (7" from center of fairway)

Putting contest:

Andres Lee (made the putt), Oscar Barrito (3.5") and Eric Magnifico (6.5")
The entire day reflected an amazing community gathering, capped off not only by the bounty of prizes and awards but also by a luncheon donated by El Oasis, Don Chendo, La Patrona de Playa and Yaxche Mayan Cuisine while Heineken and La Fe Bar & Restaurant provided the beverages.
The highlight of the day had to have been the hole‐in‐one shot on the 125 yard par 3 hole #3 by 9‐year old Alex Rodriguez! Congratulations!
This annual fun celebration and benefits, amongst others, Christo Rey, Nuevo Noh Bec, El Hongo, Good Intentions and KKIS.
For more information visit www.playaseasiderotary.org.