Foodies
Jackfruit: The New Miracle in Fruit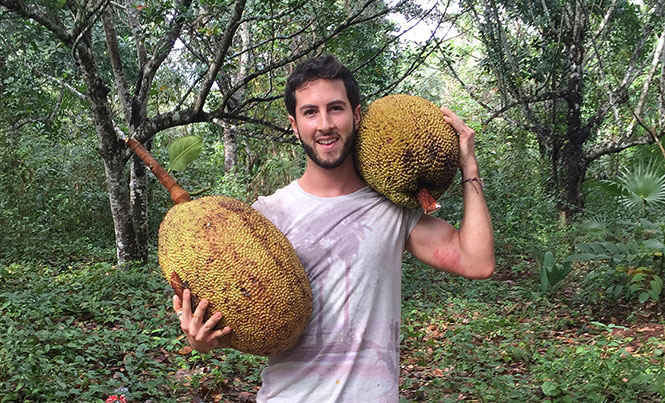 With the flavor combination of mango, banana and pineapple and weighing up to 90 kilos this versatile, tropical delight is now being grown in Cancun
The Jackfruit, the new popular fruit, is the biggest in the world. Originally from India, it has been grown in Nayarit, Mexico for a number of years and most recently began to be commercially sold in the Yucatan Peninsula.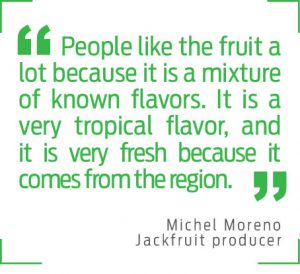 Michel Moreno is a jackfruit producer. Approximately a year ago he acquired a piece of land in Cancun where 200 Jackfruit trees are located.
It is also known as yaca, and many products including ice cream, pie, bread, and marmalade can be made from the pulp while coffee can be made from its seeds.
How did the idea to produce jackfruit begin?
A year ago I tried this fruit and fell in love with the flavor. I began to look for a place where it is grown, and the opportunity presented itself to buy a piece of land with trees already on it. I am selling them in the Yucatan Peninsula, and I send them to Merida and Playa del Carmen.
How difficult is it to grow this fruit on this land with these climate conditions?
It is a very noble fruit. It grows very well here because there is water below and the root grows very deep to absorb nutrients when they are well watered they grow easily. It is a very tasty fruit.
What are the benefits of eating jackfruit?
It helps your sight, skin, blood, and it improves the circulatory system. In fact, it has more potassium than bananas and a lot of vitamin C. It also helps digestion as it has fiber.
What is the price per kilogram?
I sell it at 35 pesos per kilo, but I have found some places it sells for 90 pesos per kilo when it is the entire fruit. Cut and peeled it has another price because 40 percent of the weight of the fruit is the pulp, so once it is open, the cost is a bit more. I sell the pulp and the seeds ground up like coffee, it has a lot of nutrients and gives you energy. When the fruit is green, it can be cooked like tofu, as a meat substitute similar to chicken, I have made it with mole. In India, it is considered "queen of the fruits".
How have people responded?
People like the fruit a lot because it is a mixture of known flavors. It is a very tropical flavor, and it is very fresh because it comes from the region.
What are your plans for the future?
To introduce this fruit to restaurants, because many tourists like to try new tropical fruits when they are in the Caribbean.
If you would like to try jackfruit, visit Facebook/JackFruitCancun where they take orders.