Barbie lived in Cuba for many years and can not wait for you to visit this beautiful and unique island only 45 minutes by air from Cancun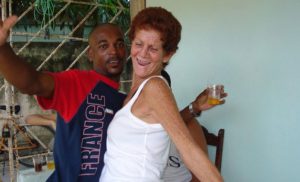 One night, while in a taxi driving through Havana, my former boss, who was not used to Caribbean life, was complaining about, well, everything. Upon overhearing his complaints, the taxi driver said suddenly, "Wait a minute man! Cuba is not to understand. It is to enjoy!" And so it is. The Cuban people are lovely and you must accept their caring nature without expecting anything more. Only 45 minutes by plane from Cancun, Cuba is perfect for a weekend or, as I suggest, a 10 day minimum to have a great time. It is a unique place and as they say, "Cuba is authentic!"
I love this Creole mix which has formed over the centuries from Taino indigenous people, Spaniards, French-Haitians, English, Chinese, and African, who all gave it its glamour and intelligence. I lived there for many years. I lived and experienced their dance festivals, music, and many nights of creativity, chatting, coffees, beers, rum, and afternoons in the neighborhood barbershop or a ballgame.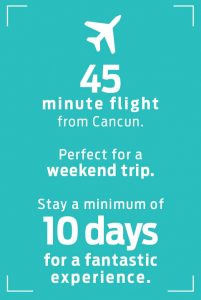 I recommend a minimum of four or five days in Havana staying in a privately owned house. Check out www.cuba-junky.com for private home rentals. There is also Hostal Calle Habana (www.hostalcallehabana.com) close to Plaza Vieja. Havana has so much to explore.  Art museums, the Chinese neighborhood (different from the usual Chinatowns), a walk through Miramar, restaurants like Casa Santy (seafood), La Guarida, El Litoral on the boardwalk, and I could go on!
On the eastern route the places and experiences not to be missed include: Playa del Este, Jibacoa, Rancho Gaviota in the Yumuri valley and its huge avocado plantations, Matanzas, Varadero in the Olga house on Calle 40, restaurants Suarez y Suarez and Terraza Cuba, Cardenas. Oh and don´t forget, la Cienaga de Zapata to arrive in Cienfuegos, Remedios, Santa Clara, Cayo Saetia, Holguin, Trinidad, Santiago de Cuba and its carnival, Baracoa and its Rio de Miel. Traveling down the western route walk on Las Terrazas, bicycle down Viñales, Cayo Levisa, fresh tobacco in Pinar del Rio and the list goes on. And while you are touring Cuba, don´t forget: It is not to be understood, it is to enjoy!