Foodies
Shall We Put the Kettle On?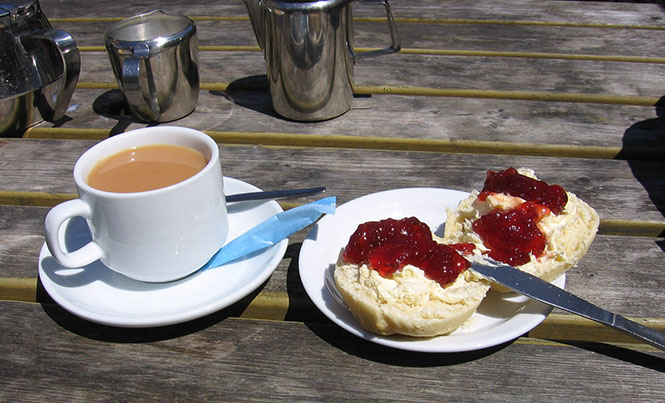 Discover a variety of teas and their healthy properties with our resident tea expert,  Sara Jones (well, she is British after all!)
A trip home to England is always accompanied by the phrases "Shall we put the kettle on?" and "Time for a cup of tea?", called out at two or three-hour intervals by my lovely mother. Being British, tea is certainly a big part of my culture. 'You can take the girl out of England, but you can't take England out of the girl!' My morning tea of choice is normally Earl Grey, a black tea, lightly fragranced with Bergamot. Throughout the day, though, a variety of fruit and green teas make a great caffeine free and hydrating alternative to water, coffee or soda.
Black Tea.

This is the most common type of tea and does contain caffeine. Depending how long you steep the tea, it normally has anywhere between 20 and 40 mg of caffeine per cup. Studies show that drinking black tea provides antioxidants that can reduce the risk of stroke and prevent dementia.

Green Tea.

High in polyphenols, green tea has been shown to be preventative against many types of cancer and to lower cholesterol levels. It can also protect against Alzheimer's disease and dementia. Be careful not to steep green tea for more than 3 minutes or the taste can turn bitter.

Ginger Tea.

This is a fantastic tea to drink at any time, but especially when you're not feeling well. Whether it is nausea, sickness or cold and flu symptoms, ginger tea with a little lemon and honey makes a powerful germ-fighting and stomach-settling combination. Make this tea by simmering fresh root ginger in a pan, then add the lemon and honey in the cup.

Oolong Tea.

Hailed as a 'fat burning' tea, oolong activates enzymes that enhance the function of fat cells in the body, making the cells more efficient at releasing fat to be burned by activity (yes, you still need to exercise!).

Peppermint Tea.

Perfect after a big meal, peppermint tea can relieve abdominal bloating and indigestion, promote the healthy function of the digestive tract and freshen breath at the same time. Try swapping the after dinner mint or mint chocolate for a cup of peppermint tea. Remember that in this hot weather you can always brew the tea and then pour over ice to make a cool, refreshing beverage.
Sara Jones is a Spa, Wellness & Lifestyle Expert and Founder of Spa & Wellness Mexico magazine. www.spawellnessmexico.com