Passion by Martín Berasategui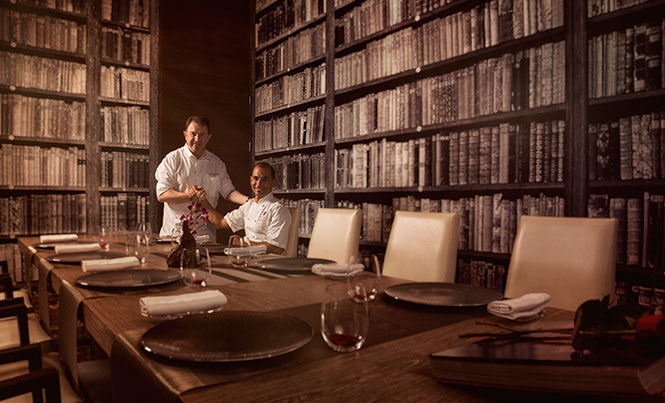 The Paradisus Resort in Playa del Carmen offers guests, visitors to the Riviera Maya and residents the opportunity to experience world-class fine dining at their AAA Five Diamond Award winning restaurant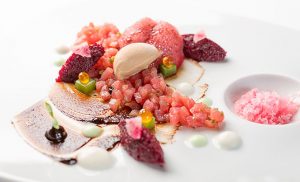 As we drive through the gates at Paradisus Resort in Playa del Carmen, my co-worker Ana and I remark at the size of the complex. Located at the northernmost end of Quinta Avenida (Fifth Avenue), this all-inclusive resort owned by Melia Hotels International is two resorts in one – La Esmeralda for families and La Perla for adults. It is Ana's first time here and my second. I was fortunate enough to be on hand when their world-class restaurant, Passion by Martín Berasategui, received the distinctive AAA Five Diamond Award in March. That evening, we were treated to a small sampling of what executive chef, Maximiliano Sola, and his team were capable of creating. When I was asked if Ana and I would like to attend a dinner at Passion, I did not hesitate.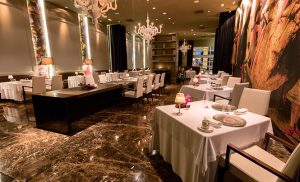 We were met at La Perla by their head sommelier Vidzú Ramirez, who guided us towards the dining areas and pointed out their variety of bars, lounges, and restaurants. I was surprised when, after pointing it out to us, we walked right by Passion. I thought that was our destination, but it seemed he had something else planned for us. We continued through a series of small bridges which spanned water features, all the while Vidzú noting a coffee shop here, a Don Julio tasting bar there. Then, I spotted our destination The Moët  & Chandon bar where we were met by two members of the Paradisus Guest Experience team, Itze Pérez and Alexis Godoy, as well as, sommelier Marlen Aguilar.
The Moët & Chandon experience is available to guests of the resort (for a fee) and is a wonderful way to sample different varieties of Moët while the sommelier provides a brief history of champagne and Moët . Each sampling had its own introduction where we learned to identify flavors, appreciate the dryness, and even which foods to pair with each. We were offered three samples, Imperial Brut, Rosé Imperial Brut, and Ice Imperial. Needless to say, I enjoyed all three very much. Bidding adieu to Marlen, we headed off to Passion for dinner.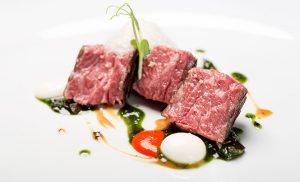 The creator of Passion is Martín Berasategui, a Basque chef, and restaurateur with some of the highest ratest restaurants in the world. Passion has been recognized for excellence with the AAA Five Diamond award. The reason for this is evident the moment you walk through the door. Passion offers visitors fine dining in an elegant atmosphere. Ana and I were escorted through the dining room to a private seating area where we were surprised to find Chef Maximiliano Sola waiting for us. Chef Sola hails from Argentina and has been working for Martín Berasategui for over a decade in his restaurants throughout Europe and now Mexico.
As we sat down to enjoy a martini of vodka, strawberry, and a hint of balsamic vinegar (delicious, by the way), Chef Sola explained we would be dining from the wine pairing menu. Each plate we were offered was introduced with a different wine by Vidzú, our wine sommelier. We started our feast in New Zealand with Nobilo Icon, a sauvignon blanc. Chef Sola paired the sauvignon blanc with a black garlic with smoked tuna tartare, beetroot ceviche and hot radish cream, encouraging us to try each flavor separately and then all together to experience all the flavors at once. The tasting continued with a German riesling paired with a roasted foie gras. Then to France with a pinot blanc and a tepid lobster salad, marrows and vegetables. We continued our travels through Chile, the Napa Valley, and back to France, all the while sampling incredibly intricate and equally delicious creations including Wagyu beef with ragout of chard stalks and liquid brie spheres. We finished our tasting with three unique and mouthwatering desserts – my favorite being the green tea sponge cake with rosemary ice cream and lemon thyme meringue.
Many thanks to Chef Max Sola and his team of incredibly talented chefs and special thanks to Head Waiter Augusto Canul and his team who put the finishing touches on this unique experience with their professionalism and service.
Passion by Martín Berasategui is open to the public and reservations are needed. For reservations, please call 984 877 3900 or send an email to paradisus.playadelcarmen@melia.com.