Foodies
Hail To The Red, White And Green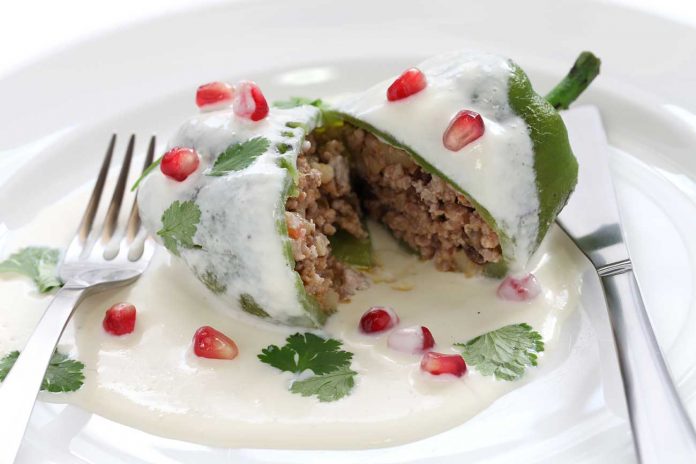 Talk about special dishes! Chiles en Nogada is a dish you might only find during this season and in this issue, Catherine explains everything about it.
Timing is everything for Chiles en Nogada, a typical Mexican dish that is a "platillo poblano por excelencia" (poblano dish par excellence). It coincides with Mexico's Independence Day celebration and the height of pomegranate (granada) and walnut season. Although the star of this dish is the poblano chile, the other two locally cultivated ingredients shouldn't be overlooked: walnuts and pomegranate seeds.
The story goes that after signing the Declaration of Independence of Mexico in August 1821, Agustín de Iturbide, a Mexican army general and politician, returned to Puebla, the then capital of Mexico. In recognition of this historic feat, the nuns at the Santa Monica Convent created and served him Chiles en Nogada, reflecting the green (chiles), white (walnut cream) and red (pomegranate) colors of the Mexican flag. Since the flag was unveiled during this same time period the dish became associated with a heightened sense of patriotism. A more obscure version says that the original recipe was in fact created by the Traslosheros family from the town of Puebla, even before the nun's homage to Agustín de Iturbide.
THE DISH BECAME ASSOCIATED WITH A HEIGHTENED SENSE OF PATRIOTISM
The dish is made with Poblano peppers, stuffed with a meat and fruit mixture, and covered with "nogada", a walnut cream sauce. It is finished with a sprinkling of pomegranate seeds, but some of the most complicated recipes might include up to 40 different ingredients. The good thing is that most of the preparation for this dish can be accomplished the day before, leaving you time to enjoy Mexico's celebratory Independence Day with friends and family.
The dish is representative of Mexico's traditional cuisine and is usually only prepared during this holiday while the pomegranates, also called the forbidden fruit, are ripe. Want to make chiles en nogada after the fresh walnut and pomegranate season is over? Then plan ahead and freeze the fruit's seeds, drying them before placing them on a baking sheet lined with wax paper. After a couple of hours remove them from the freezer, place them in plastic baggies and store in the freezer. You may be the only one making Chiles en Nogada in January.