Cozumel
Coz Coffee Roasting Company
Mexican grown organic coffee just one block from the main square on Cozumel
I recently visited a special coffee shop called COZ Coffee Roasting Company. The owner, Thomas Pugliano, decided to leave his life in Montana to roast and provide organic coffee as a superfood in Cozumel, Mexico.
"My passion began when my wife Barbara and I had possibly the best cup of coffee we had ever had. The beans were roasted by Mario Grimbaldo Morante. After two years of finding reasons to travel to Playa Del Carmen to revisit Mario and buy more coffee, a life-changing question was posed: 'would you teach me?'"
When you consume coffee while it is "alive," as Thomas explains, it is a superfood full of antioxidants and nutrients (within 20 days of the roast). Not like in the stores, which makes all the difference.
The fresh roasted coffee of COZ Coffee Roasting Company is a blend of two different sources: the Ruben Gomez family farm in Chiapas and a collective of small family coffee farm in Veracruz. That gives the perfect balance between sweetness and acidity. Totally unique, organic and fairtrade. As soon as you taste it, you will complete a beautiful artisanal chain that starts from grower and finishes in your well-being.
At the COZ Coffee Roasting Company you can see the organic coffee beans when they are still green. Thomas is roasting coffee beans on site everyday. You can watch him from the open window and enjoy the nice smell of the fresh green bean roasted.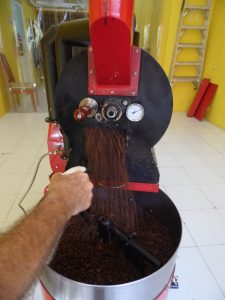 COZ Coffee Roasting Company is located in the heart of downtown Cozumel, just a half block from the main square. You will love sitting outside this comfortable place on the 5th  street mall to enjoy your fresh roasting coffee with your favorite magazine or newspaper, like The Playa Times!
They offer a large choice of coffee in their menu. Regular coffee is 25 pesos, the famous Peanuts Butter Coffee is 50 pesos and the traditional Coffee de Olla sells for 50 pesos with cinnamon, cloves, vanilla and brown sugar. They also serve a very healthy breakfast.
You can take home a bag of their organic, high-altitude, shade-grown coffee roasted the same day as your visit.
COZ Coffee Roasting Company is open everyday from 6:30 am to 9 pm. On Sundays they close at 1 pm. They are on 5th avenue between calle 2 and Avenida Juarez, one block from the minimarket Seven Eleven. For more info, visit their website:  www.cozcoffeeroastingcompany.com or  Facebook/COZ Coffee Roasting Company Cozumel.