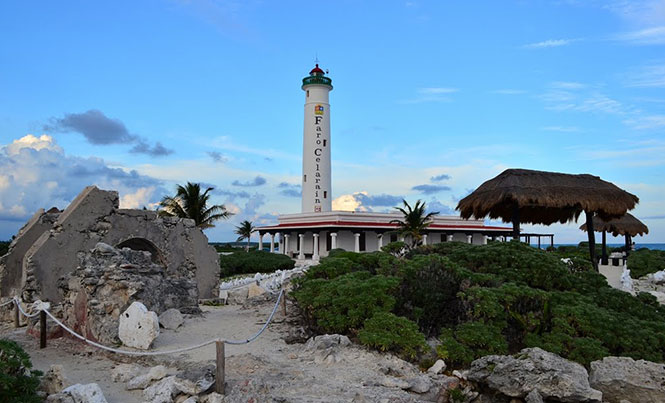 Very often we associate vacation time with the beach without stopping to think about actually hanging out with nature. Vanessa tells us about this great option for your next trip to Cozumel
Cozumel's Punta Sur Eco Beach Park is a true natural treasure. It is an ecological reserve covering an area of 247 acres. An ideal place for taking pictures of the exotic birds living in freedom, watching crocodiles and iguanas in their natural habitat, laying on the beach and snorkeling by the coral reef which lies offshore.
This is the favorite place for an eco-aware person like Alexandra, from Monterrey. "When I come to Cozumel, I love going to Punta Sur Eco beach Park. I know exactly where my money is going and I appreciate being in symbiosis with nature without feeling any negative impact of my presence. The snorkeling area is, for me, one of the best features of the island, with an abundance of fish and easy access from the shore. The waters are calm and make a great place to introduce children to the world of snorkeling. I love allowing myself to relax in a hammock under a palapa on the beach."
Colombia Lagoon is one of the main attractions of the park, with its mangrove swamps and jungles sheltering a variety of wild birds, crocodiles, fish and vegetation. There are viewing decks and towers in many parts of the park where you can observe and take fabulous pictures. You can also take a boat trip on the lagoon and take a closer look at the crocodiles and other wildlife. In addition to these natural attractions, Punta Sur Park is also home to a Mayan Ruin site called El Caracol Mayan ruins. This unique structure has conch shells embedded in the walls that whistle in different tones depending on the direction of the wind. As the legend goes, they were meant to warn the Maya people of oncoming storms or hurricanes.
If you are feeling energetic, you should really climb to the top of Punta Celerain Lighthouse. The panoramic view is just amazing. The lighthouse is also home to the navigation museum. A family from Houston, Texas says "This place is ideal for my family. A lot of experiences to share on the same day about culture, nature and history. The children just loved the museum."
It's like they say: "Punta Sur Eco Beach Park has something for everyone"
Monday-Saturday 9:00am to 4:00pm, Adults $14.00 US, Children $8.00 US (3-11 years old)
The park is located about 21 kms south of San Miguel de Cozumel. I recommend you to rent a car or a scooter to go there. cozumelparks.com/eng/punta_sur.cfm.