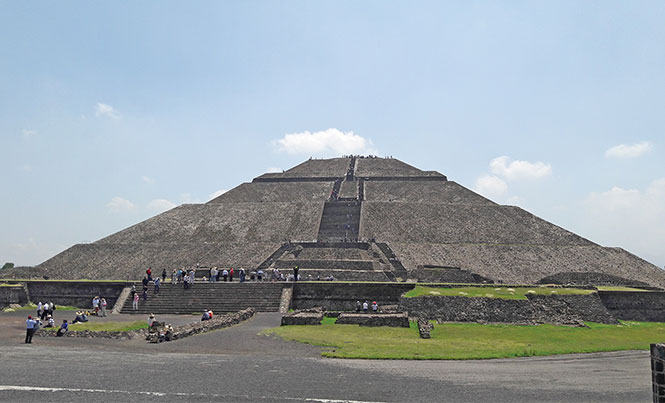 In the Valley of Mexico lies this ancient and spectacular Mesoamerican archaeological site – once the largest city in Western Hemisphere
Just 25 miles outside of Mexico City in the state of Mexico is the ancient city of Teotihuacan. This archaeological site sits in the Valley of Mexico and at its height encompassed over 14 square miles with more than 175,000 inhabitants. Archaeologists believe Teotihuacan was the first planned urban development in Mesoamerica with development beginning around 200 BC. Who exactly planned and built Teotihuacan is still up for discussion, and it is believed that at its height, Teotihuacan was a multicultural city that included Mixtec, Zapotec, and Maya. Its name comes from the Aztec language Nahuatl although, the city existed before the arrival of the Aztec in the region.
This is a huge site, and as I walked up from the parking area, I was struck by the vastness. I was used to seeing the ruins in the Yucatan Peninsula where their vastness is often disguised by the surrounding jungle. Climb to the top of Nohuch Mol at Coba, and you all you see for miles and miles is jungle. Climb to the top of the Pyramid of the Sun at Teotihuacan, and you can see the entire layout of the city, valley, distant towns and surrounding mountains. The climb to the top is not nearly as steep as the climb at Coba, although it is a longer climb. The Pyramid of the Sun is the largest pyramid at Teotihuacan standing 75 meters or 246 feet high (Nohuch Mol stands at a mere 40 meters or 130 feet).
As you look around the site, you can see different levels of construction, showing how the city grew on top of itself over nine centuries. The evidence of urban planning is seen in the layout of the streets and blocks, including two main roads that run perpendicular to each other (Avenue of the Dead and East-West Avenue). Archaeologists have also found drainage and sewage systems in the houses, buildings, and public places pointing to the extensiveness of the planning.
You can spend more than a few hours exploring Teotihuacan, and there is are museums on the property that can't be missed. The Museo de Sitio Teotihuacan contains beautifully restored pieces excavated from the site, including skeletons, obsidian, and pottery. Another museum on site, the Beatriz de la Fuente Museum, houses murals recovered from the site. There is also a botanical garden with plants and trees native to the region.
If you are are heading to Mexico City, I can not recommend a day trip to Teotihuacan enough. It is a breathtakingly beautiful site that opens the door and your eyes to the ancient history of the region.