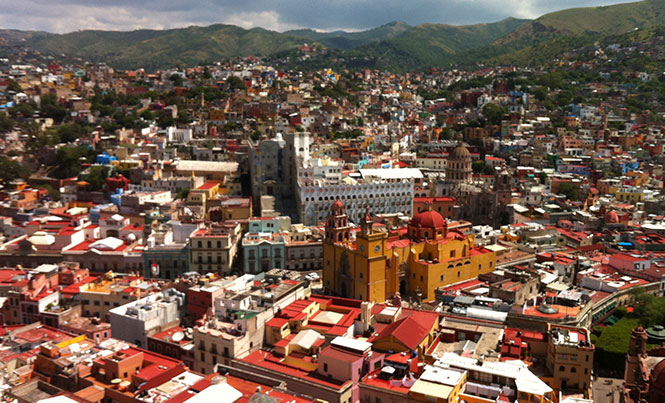 A few years ago, the Unesco named Guanajuato the best tourist city in the world, beating cities like London and Paris. Founded in 1559 in order to mine its rich silver and gold deposits, it played a huge role in the Mexican war for independence. It was there that Miguel Hidalgo fought the first real battle against the Spaniards. A statue known as 'El Pípila' marks the heroic act of Juan José de los Reyes Martínez Amaro who, armed with tar and a torch, burned down the wooden door of the 'Alhóndiga de Granaditas' and allowed the insurgents to attack.
Unlike many well-known places in Mexico, Guanajuato is not on the coast. Its location is in a small valley, which makes the streets narrow and windy. Roads are constructed underground and the use of tunnels makes it an easy town to walk around. The university creates a 'real' town atmosphere, with students and workers, unlike typical tourist destinations. Everything is brightly colored, with little systemization, and it looks great. Perhaps it owes much to the influence of Diego Rivera, who was born there. His house has been converted into a museum which displays some of his early work.
Visitors, however, don't just come for the insane mummy museum or its rich history. The city  is constantly working hard to attract more people. Two examples of this are the Guanajuato International Film Festival (GIFF) and the Festival International Cervantino. The latter honors Spain's most regarded writer, Miguel de Cervantes, author of Don Quixote.
Although sometimes overlooked due to its famous neighbor San Miguel de Allende, this town is definitely worth visiting. Once you are at the viewpoint of the Pípila with your enchiladas mineras, you will likely agree that this is one of the most beautiful cities in the world.