Playacar Center Grand Opening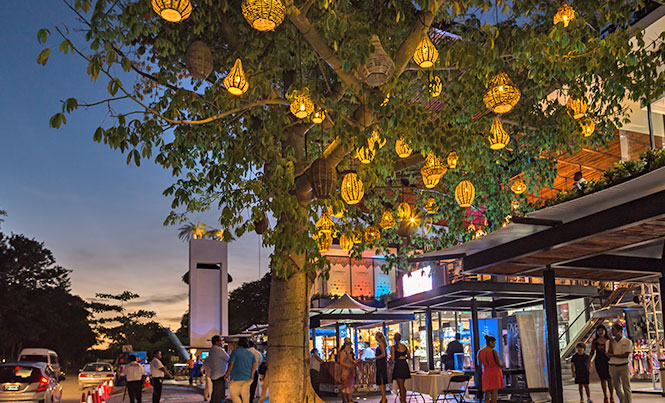 Playacar celebrated the newest plaza in Playa del Carmen which offers shoppers the finest products Mexico has to offer
It was the evening of November 10 and almost sundown as I was greeted by the sounds of drums. I was approaching the entrance to the Playacar Center, which was having their grand opening, right across the street from the RIU palace hotel in Playacar, Phase II. I arrived by bicycle, which is the easiest and cheapest way to get here for residents. Easy to find, but just enough off the beaten path to make it feel like you are in a different world.
As I entered, I walked past some fierce looking Maya warriors who guarded the entrance. They were conducting a ceremony, with some walking about, spreading incense, as the place filled up with local Playenses. Many seemed very familiar with one another, and a person that I knew who was there, remarked that they were likely neighbors. With the hotel across the street and several others nearby, many guests may have been drawn by the excitement on the street, or by the spotlights that lit up the sky once it got dark.
The crowd gathered out front where an MC gave us a rundown of the night's proceedings. The dancers in front of us would be giving a performance later. There was a fair set up in the back for them and there was talk of prizes being given out. A VIP group stood for the cameras for a quick photo before the gathered mass of press, enduring a few moments of shouts and flashes going off all around them. I managed to get a few myself before it was called to an end and the entourage whisked away for a whirlwind tour of the premises.
As I followed the tour, I took a walk by the shops and got a sense of what the place has to offer to shoppers. There is a real intent to put some of the finest of what Mexico has under one roof here, with shops selling items that reflect culture, art and gastronomy. The space does look aimed at tourists, but local residents are likely to get much out of this place as well. I saw a lot of great works on display in the shop windows from talented artisans.
My tour finished. I took the escalator up to the second-floor restaurant area, where the performers were preparing to go on. After a buildup of tension, out they came, propelled forwards by the powerful rhythms of the drums. It was a fantastic display of energy, muscle, and even the limits of the human body. One of their members, a contortionist with tremendous flexibility and control, took over and showed her ability to curl and twist her form with grace and precision. A mariachi band to finish off the evening.
The shopping center is now open, from 7 a.m. to 11 p.m. For more information, visit their website: www.playacarcenter.com or Facebook/Playacar Center, or head over for a visit.