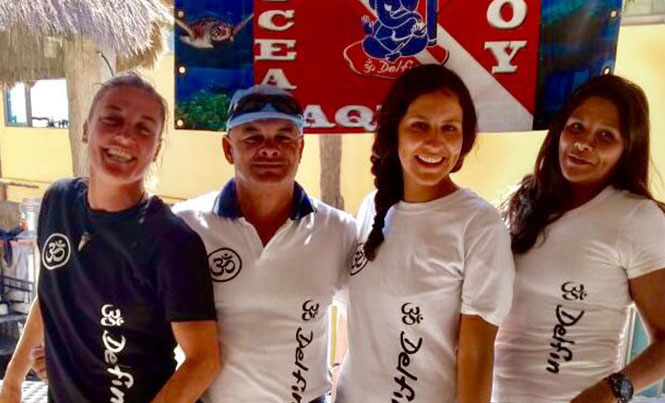 Meet one of Playa Amigable's participating businesses, a gay-friendly tour agency in Puerto Morelos
I met Delphine LeChat on a sunny Sunday afternoon, back in November 2016, on a charming beach of Puerto Morelos. It was the first time since I moved to Mexico that I was visiting this fishing village and I was excited.  
She had invited girls from our LesMex Facebook group to meet her some time before and that day, it finally happened. Lesbians from Cancun and Playa all drove to the central meeting point to finally meet Delphine: a French woman who has been living in Quintana Roo for the past three years and who owns a diving shop on the main street of Puerto Morelos.  I present to you: OM Delfin.  
Managing the dive shop herself, Delphine counts on a great team of divers and national tour guides, some of whom have been working with her since the beginning. She has been diving for over 20 years, teaching for 12 years, and has owned her shop for three years.
Delphine shared that she had been thinking of diversifying her activities by offering LGBT tours, although she had never really gotten around to it. Not too long after we met, we discussed different possibilities for creating an LGBT division in OM Delfin as an inclusive dive center, in order to promote a place of better acceptance, respect and a gay-friendly environment.  
OM Delfin LGBT Tours has seen the light and is now part of #PlayaAmigable's newborn family. The idea is to create a safe and an open-minded environment for everyone.  
Miss LeChat is a proud member of the LGBT community and wants to share amazing experiences with her guests in the safe environment of her tours. I am one of those lucky people, as I participated in the first LGBT Diving Day on Thursday, January 19 in the beautiful and clear blue sea of Puerto Morelos. My Canadian lesbian best friend was on the boat for her first dive ever, two French gay men were with us, as well as the dive instructor's parents. It was an inclusive activity and we had a lot of fun under and outside the water!
OM Delfin LGBT Tours offer PADI diving courses, dive tours and snorkeling tours, not only in Puerto Morelos, but in other places of the Riviera Maya, such as Cozumel, various cenotes, and Cancun's underwater museum.
Visit her Facebook page and book your next LGBT trip right away!