Cancun & Puerto Morelos
Discover Mexico
Meet scientist and conservationist, Rafael de la Parra
Scientist and conservationist Rafael de la Parra is making a difference in local marine conservation and awareness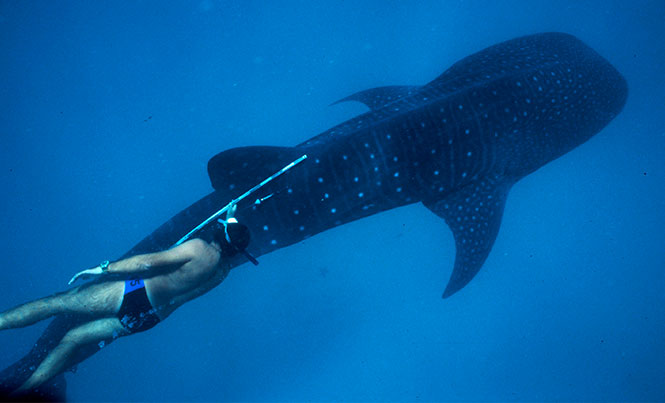 Rafael de la Parra is a fellow scientist and conservationist currently living in Cancun. He is originally from Mexico City and studied Hydrology and Marine Biology in the National University (UNAM). He has been working for the last few years with a non-governmental conservation organization called Ch'ooj Ajauil AC. Within this organization, he works on monitoring pelagic fish such as whale sharks and understanding the marine ecosystem of the Mexican Atlantic Ocean with a particular interest in the area around Isla Mujeres, given its high productivity.
"Nature is our mother; we can thus improve and increase our care for her as fathers"
Besides being a marine researcher, he also runs marine-based activities like whale shark tours, where he makes an extra effort to highlight the importance of the marine ecosystem and raise awareness of sustainable practices and codes of conduct around marine wildlife. His projects and business also collaborate with other projects from all over the world looking at whale shark and manta populations. For example, he takes pictures of manta rays' bellies to add to a global library of mantas useful to study their populations. He has also collaborated with educational activities at the local planetariums like Sayab and the bull shark project in Playa del Carmen.
When asked what his views were on the challenges for Playa, he mentions that the population growth of this city is the highest in Latin America and it's out of control. This would definitely be one of the biggest challenges not only for urban infrastructure, but also for managing impact on the marine ecosystem and the second largest reef system in the world, located right in front of the Riviera Maya. He also added that the best effort would be investing in education and culture as well as sports to avoid youth from getting involved in harmful or illegal activities.
His messages for other fathers and men is, "Nature is our mother; we can thus improve and increase our care for her as fathers".