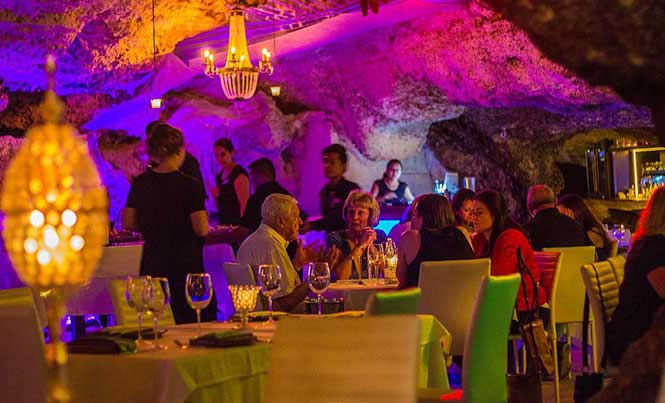 Dinner among the stalactites is just part of the Alux experience
When in Playa it's easy to stick to Fifth Avenue and the immediate area for restaurant choices. But straying off the beaten path is definitely worth it. And by 'off the beaten path,' I mean traveling down Avenue Benito Juarez, across Highway 307 and down a set of stairs that lead you into Alux Restaurant. This out-of-the-way eatery is a must-see for tourists and locals alike.
Alux is located on Avenue Benito Juarez between Calles 65 and 70. It is easily missed from the road because the restaurant itself is underground, located in a beautiful natural cavern that is more than 10,000 years old. This makes eating a meal at Alux a memorable experience.
Far from being dark or dingy, Alux could be the setting from a James Bond film. The cavern has formed a large underground loop filled with stalactites dripping into small pools, and guests take time out of their meal to walk around the entire cave. The main dining room is spacious and romantically lit by colored lights cast up the cave walls, ornate chandeliers, and classic furnishings. Smaller, naturally formed 'rooms' are reserved for guests wanting a more private setting. This sprawling cave seems to have no limits. There is even an events space for weddings and other occasions!
Their impressive bar is crafted out of natural materials and sits at one end of the main dining area. Here the barmen mix some creative cocktails like the Mayan Sangría, which is a heady mix of vodka, rosé wine, and pear liqueur, served with fresh fruit that is reminiscent of Pear Drop candy. A discreet DJ plays soft music which quietly echoes around the cave while guests dig into their dishes.
The menus add a decadent twist to traditional Mexican cuisine. The Tuna Passion is seared to perfection and finished with a red mojo sauce, while the Cenote Duck is a sticky sweet surprise set on a bed of fettuccine pasta and finished with a spinach salad. The food is fantastic, and guests can be seen quietly gazing around their awe-inspiring surroundings as they tuck in.
Alux casts a perfect balance of quality food in a unique setting that creates an unforgettable dining experience.