Cozumel
Equinox Night at Cha'an Ka'an
A night of planetary exploration and music at Cozumel's planetarium entertained hundreds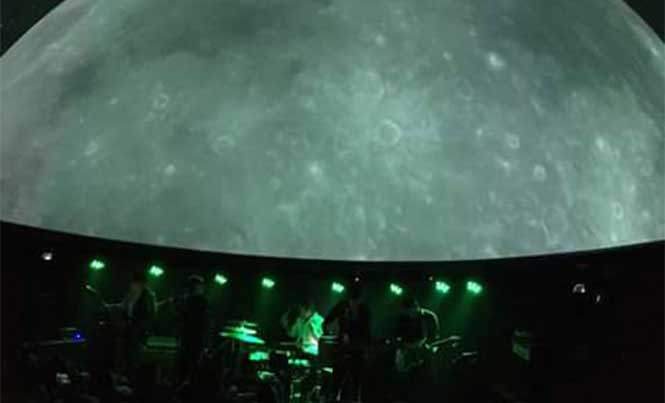 On March 21, at two functions at 8:00 pm and 10:30 pm, Cozumel had the opportunity to witness an entertaining spectacle. Planets, stars, rings, moons, eclipses and galaxies were shared with us in the dome of Cha'an Ka'an, the island's planetarium.
The presentation on that equinox night was a gala, with a hundred viewers at each event. Projections of spectacular images were accompanied by the fabulous music of Pink Floyd, played by The Red Eye Band.
The live show of  Pink Floyd music featured Shine On You Crazy Diamond, Learning to Fly,
Coming Back to Life, The Dark Side of the Moon (full version), In the Flesh, The Wall, Wish You Were Here", concluding with the exquisite melody of Comfortably Numb.
All of the spectators had a great time, and the excellent musicians who made this a phenomenal night deserve a round of applause. I felt connected with the universe and thought that this was the perfect music with which to travel visually into space.
The members of Red Eye Band are Ruben Larregui (voice and acoustic guitar), Marlon Bacort (electric guitar), Josue Martínez Bass (guitar and chorus), Aurelio Janeiro (drums) and special guest David Maharas (saxophone and transverse flute).
They will be presenting this magnificent show at upcoming dates in the various Riviera Maya planetariums (Playa del Carmen, Cancun, Chetumal and Cozumel). You can check dates and times soon on The  Red Eye Band 's page: Facebook//The-Red-Eye-Band-274637409218607/ or directly on the Facebook pages of the planetariums.