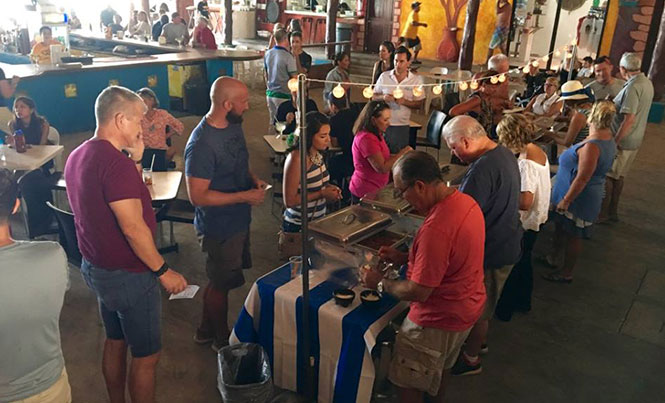 First annual Seaside Rotary chili cook-off draws hungry crowds!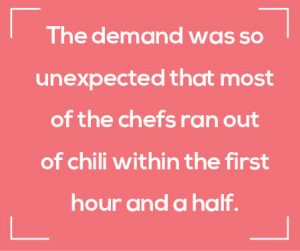 The first annual Seaside Rotary cook-off has announced a winner! Greg Cosway and his wife Tammy have won for "The Best Chili in Playa del Carmen 2017." They are originally from Toronto and have been visiting the Riviera Maya since 1994. They now live here full time with their two girls, Kylie-Rose and Jazlyn. Greg and Tammy went home with a trophy and bragging rights, but generously donated the $100 USD in prize money back to the club.
The cook-off was the first of its kind for Seaside Rotary and was an undeniable success. There were six very competitive chili chefs participating this year; Miguel Herrera, Matt Weatherbee, Lou Hernandez, Steve Thomas, Patrick Grenville-Morris and our two winners, Tammy and Greg Cosway.
Everyone was surprised by the number of people in attendance. The demand was so unexpected that most of the chefs ran out of chili within the first hour and a half. Still, everyone who came to taste had a great time and enjoyed the special happy hour pricing offered by our wonderful hosts, JJ and Kim from Wah Wah Beach Bar. Event organizers are looking forward to an even bigger event next year, opening up the cook-off to more local home cooks and professional chefs.
I'd like to thank Seaside Rotarian Allan Lockhart for spearheading this fun event, everyone on the organizing committee for all of their hard work,  and  the talented chili chefs and everyone who came out to support Seaside Rotary! For more information about the Rotary Club of Playa del Carmen Seaside, its projects and initiatives in the community visit www.playaseasiderotary.org.
Rotary Club of Playa del Carmen Seaside is Playa del Carmen's newest Rotary Club and welcomes both men and women. Chartered by Rotary International in September 2012, "Seaside" is an English-speaking club with 23 members representing Europe, North and South America. Each is dedicated to upholding the Rotary ideal of "Service Over Self".
Rotary International is the world's oldest and largest non-profit service organization, with 34,000 Rotary Clubs and 1,200,000 Rotarians in over 220 countries. The Rotary Foundation supports grass-roots level community projects sponsored by local clubs around the world and, since 1985, has led the effort to eradicate polio. To date, there are fewer than 200 newly diagnosed cases in only three endemic countries worldwide.