Entertainment
FEVINO: Festival de Vino At Mayakoba
The FEVINO project which promotes wine culture in Mexico came to the Riviera Maya for the first time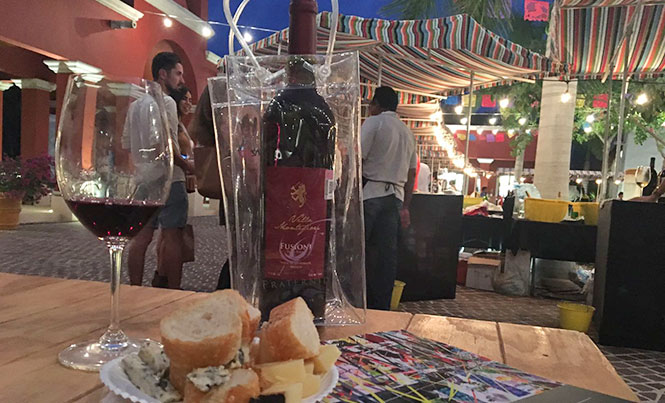 Saturday, May 13 saw the FEVINO: Festival de Vino come to the Riviera Maya for the first time. The event was held at El Pueblito at the prestigious Mayakoba resort from 5 p.m. – 10 p.m., to the delight of resort guests and wine-loving locals alike.
El Pueblito square was adorned with string lights that hung between the stalls of wineries hailing from Mexico and all over the Americas. The band stand was home to Siete Leguas Tequila, for those who wanted to taste something stronger than the wine on offer.
Attendees were greeted at the entrance with their passes and a wine glass. They were then free to peruse the stalls, tasting the white, rosé and red wines being sold by vendors while also enjoying freshly made food. A fantastically fresh bruschetta was served with red wine infused bread toasted on an open grill, topped with blueberry jam, smoky parma ham and finished with soft cheese and a tangy balsamic reduction.
As the sun set, small groups wandered around the square, fanning themselves in the balmy weather and enjoying the refreshing beverages. Seating areas were decorated with fresh flowers, striped canopies provided shade over the stalls, and the lights twinkled in the dusk while fountains bubbled. The whole effect created a subtly European ambiance, reminiscent of a French market. This feeling was helped along by the wheels of French cheeses and fresh bread that could be purchased to compliment the wine. We paired a few cubes of Comté cheese on a soft baguette with a Villa Montefiori Cabernet Sangiovese and unsurprisingly came away with a bottle to take home.
Far from crowded, FEVINO had a merry ambiance as the guests strolled from stall to stall, delighting in the opportunity to try so many wines. Vendors were passionate and willing to impart their knowledge, so even the least-educated tasters came away feeling like a certified sommelier. Though I'm sure it would have been impossible to try everything on offer, we managed to try an impressive 16 wines, of which we purchased two special bottles. We left FEVINO rosy-cheeked and excited about our spoils – certain we would be attending the next time FEVINO decided to grace the Riviera Maya with its presence.