Two healthy-eating options in Cancun that can be enjoyed by all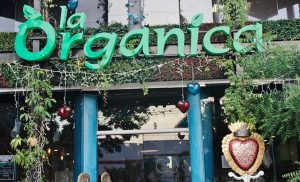 Cancún has great restaurants and many options for seafood, Tex Mex, Asian and everything in between. However, when it comes down to vegetarian, vegan or organic choices, the range decreases drastically. Opening a restaurant aimed at this market can be risky. Of course, not every restaurant has to be vegan-friendly nor do we have to visit them all the time, but it's nice to have the option. They say, "You are what you eat." If that's true, these restaurants will make you healthy and delicious!
La Orgánica: This salad house and juice bar has a lot in common with places like Vegan Planet or 100% Natural (also in town), but is more personal than the franchise restaurants. They just opened a new backyard area, the perfect spot to start the day. They make their own bread, they have juices of every delicious fruit you can think of and their wraps are extraordinary. It's pet-friendly, has a kid's club and is one of the few places in town where you can get organic hemp protein at a fair price. This family business could become one of your favorites for its versatility (they have non-vegan/vegetarian options too), and great location.
Sirena Morena: They just had their first anniversary, a year of having the coolest name for a restaurant in town and offering a tasty and completely animal product-free option in Cancun's oldest street, Nader Avenue. They had workshops on fair trade, yoga lessons and vegan beauty techniques as part of the celebration. I recommend the bowls, they are pure tailor-made bliss, and the vegan ceviche is already a classic among locals. If you happen to be reading this on Thursday, forget whatever you are doing because it's Pozole Thursday and you don't want to miss it.