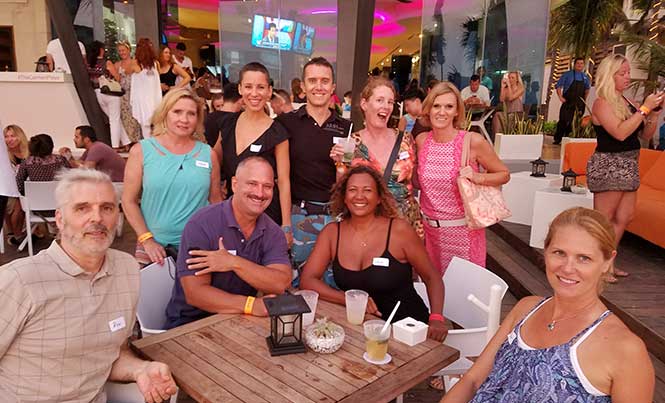 A look at the transient, laptop-based workers who work remotely from Playa del Carmen
Welcome to the Age of Digital Nomads! Playa has a whole bunch of them, working remotely from beach bars or coffee shops. While this way of life offers a massive amount of freedom, it can also be lonely. There is no watercooler gossip or coffee breaks. Having an unhealthy relationship with your laptop screen can take its toll.
Thankfully, Playa del Carmen also has a lot of outlets for digital nomads to interact, let off some steam and talk to a real person once in awhile. Digital Nomads Playa del Carmen began as a Facebook group to help connect remote workers in Playa. Since then it has turned into a supportive community with tips, tricks, recommendations, troubleshooting and socialising. Recently I attended my first Expat, Playense, and Digital Nomads Playa del Carmen meetup, which was held at The Carmen Hotel, located on Calle Eight and the beach. It is an indoor/outdoor space with a generous terrace for people to enjoy the beach in the evening sun.
After a couple of 2 x 1 drinks, the evening got underway and groups began networking and making new friends. People of all ages, professions and backgrounds discussed possible collaborative projects or simply got to know one another. Web developers, writers, photographers, wedding planners, entrepreneurs and retirees all mingled within this new community. For digital nomads, the evening was a fantastic way to meet the people you usually only see behind the screen of their laptop in the local Starbucks or Ah Cacao!
It really doesn't matter how you brand yourself; 'expat,' 'digital nomad,' 'traveller,' – it's always good to get out there and meet people. You never know what connections you might make. There are plenty of social groups for expats and locals in Playa, the majority of them on Facebook. 'Mexpats Club Playa del Carmen' organises regular meetups, as does 'Digital Nomads Playa del Carmen'. There are also great co-working spaces in Playa for those wanting to experience a collaborative work environment. Nest, Work Zone and Cowork-in, to name but a few, can be all be found on Facebook.
I would like to thank to Gaëlle Lecourt for organising the Expat, Playense and Digital Nomad meetup I attended. They occur regularly, we hope to see some new faces at the next ones.