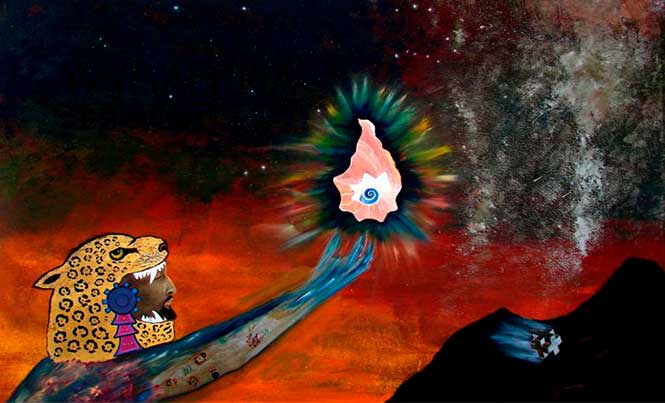 Meet one of Playa's most active visual artists and cultural promoters
Oil painting, encaustics, acrylics and prints are the techniques used by Leo Escamilla in his most recent work "Disruptors of the Past." It is part of the Festival of Culture of the Caribbean 2017, held in the state capital, Chetumal and hosted at the Museum of Mayan Culture. It was opened by the Director of the Museum, Pardo Alfonsina.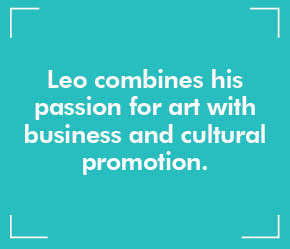 Originally from Puebla, Leo graduated from the National Academy of San Carlos, and has been based in Quintana Roo for several years. Leo combines his passion for art with business and cultural promotion. He is currently the Director of Escamilla Contemporary Art Gallery and presides over the Civil Culture, Preservation and Sustainability of the Caribbean Association.
For many years now he has directed the exhibition Colectivo Caracol Rosado (Pink Conch Collective), due to his interest in the care and protection of the environment. He is also behind the Pink Conch Parade, an event to which he invites renowned artists to contribute large format sculptures of conch. The purpose is to raise awareness about the danger of extinction of this species that is endemic to this Caribbean region.
Regarding his latest exhibition, he told us that it "is a collection of figurative trends; a sample of allegorical ideas about certain social and spiritual issues, with pre-Columbian symbolic elements and the fauna of the Caribbean that are threatened (such as sea turtles and conch)."
Aware of the impact of our actions on the environment, he also recently embarked on organizing the Eco-Cultural Festival of the Riviera Maya, featuring artistic events and environmental education.      
Eager to spread the culture, a few years ago he launched an art space and series of interesting cultural evenings at El Eden, Jardin de Arte, (Eden Art Garden) of which he is co-proprietor.            
Follow Leo on the radio and on Facebook to find out about all the events in Playa.   Congratulations Leo!