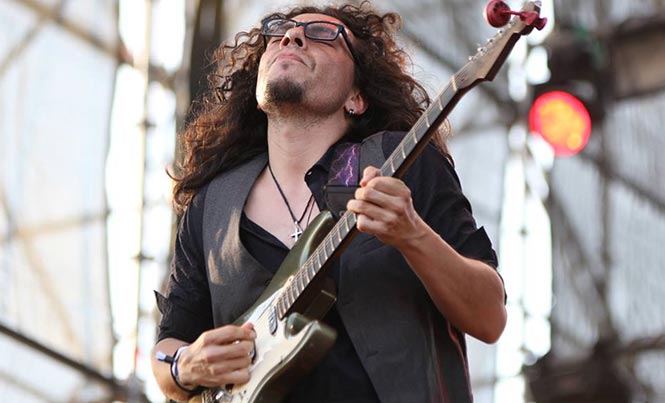 An interview with guitarist Bernardo Ron on the sound of his new jazz band, Señor Vitalis
When I first heard about the creation of the jazz-funk band Señor Vitalis, I knew a master band was being formed. Expecting excellence, I underestimated the trio, for what I heard at my very first viewing of the band's performance was far greater than such a description. If one could find a synonym for 'transcending human consciousness into the universal plane of frequency' that word would perhaps suffice. Is that too much? You will need to see the band yourself to find out. I must say, there are only a few musicians that I have seen that seem to be taken by spirit during a performance, and the band's front man Bernardo Ron is one of them. It is a state where the physical matter of both body and instrument become one in the creation of a communication from another place that one can only perceive in awe.
Joining guitarist Bernardo in this trinity of talent are Luis Ernesto López on bass, and Zoar Miranda on drums. The trio brings a wealth of musical expertise and experience to the Señor Vitalis project.
Some of that experience includes; Los Imposibles, the magic of Bernardo, perfectly paired with Saul Hernandez on his solo project – one of the most famous rock musicians in Mexico. Bernardo has also performed at an impressive amount of festival and venues including: the American Music Hall in San Francisco, the Poison Rouge in New York City, and the Troubador in Los Angeles. Zoar has toured Europe with Los Mighty Calacas, performing in festivals in Germany, France, Italy, Spain, and Austria. He also performs with Canadian Juno winner Brent Parkin. Luis Ernesto, founder of Chancla Records, participated in productions with Latin Grammy winners Eugenia León and Iván Lins, as well as Natalia Lafourcade, one of Mexico's most successful pop-rock singers, to name a few.
I asked Bernardo, "What inspired the collaboration of Señor Vitalis?"
"Mainly the desire to have a new project here in Playa. The three of us have many years' experience playing together in different bands, so we know each other very well. We have a chemistry and a sound already more or less defined. We also have the desire to create and contribute something to the original music scene of Playa del Carmen," explained Bernardo.
Bernardo and Luis Ernesto played together in the famed jazz band Aguamala, with the late Fernando Toussaint, well known for their participation in The Riviera Maya Jazz Festival. Zoar and Bernardo also performed in the jazz band BBMamut.
"How is the music of Señor Vitalis different from these past projects?" I continued.
"Very different," Bernardo answered, "Aguamala was a very powerful band that walked along paths closer to progressive rock, with very complex and ambitious compositions, with jazz influences as well. BBMamut is an aggressive trio with influences from rock, jazz, funk, noise, experimental music, it is a place where we allow ourselves to be freer and more risky, and the interaction between the members becomes a vital part and we depend on it.
Señor Vitalis on the other hand is a band more based on the groove, with simpler compositions, where the most important thing is the rhythm. The rhythm section of Zoar with Luis Ernesto is very powerful and from there we go."
"How do you best describe the style of jazz that Señor Vitalis is performing?"
"I do not think it's just jazz, it has a lot of influences. Improvisation is a fundamental part of the band, but I think we are the sum of our influences, ranging from jazz to funk, rock, rhythm & blues, blues, etc. I think we are more funk-rock-jazzy," replied Bernardo.
The band, after its conception eight months ago, is currently working on its first album.
"How are the original songs composed?" I asked.
"I try to arrange the parts in my head, and then I take them to the rehearsal. However, we all work together on everyone's ideas. It's like a democracy."
Señor Vitalis also performs with special guests, joining them this season is Luis Fernando Diaz on sax.  
A band definitely worth seeing; they perform every Wednesday at 10:30 p.m. at The Public Place, Avenida Aviacion, Plaza Paseo Coba. You can also find them at Facebook/@Senorvitalis.
Teena Clipston has spent more than fifteen years immersed in the Canadian music scene, making headlines in Concert Promotion, Event Production, and Artist Management. She now makes her home in Playa del Carmen, and is the owner and operator of PDCMUSIC.