Cozumel
Autumn la Bohème: Cozumel Artist
Meet this artist from Texas, now based in Cozumel, and share her zest for life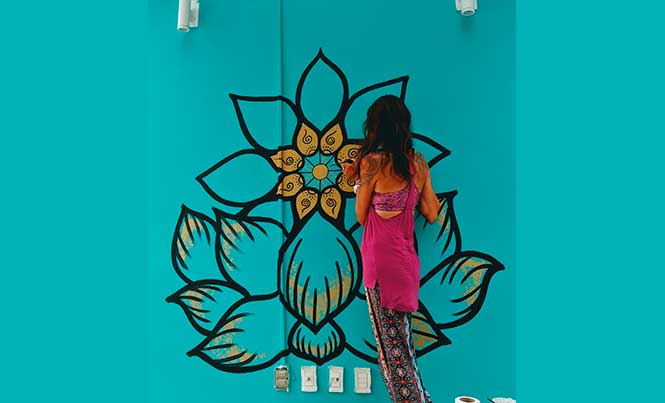 Autumn la Bohème arrived in Cozumel via Texas four years ago. She is an established artist in the area and feels "very blissed". As you will see in this interview, she is a woman of many passions.
The Playa Times: Tell us about your art.
Autumn: To me, my art is my service, and my service is sharing and connecting through art and stories. I paint on canvas or walls. I love painting murals around town. I also love working in my studio on a canvas or drawing. I have lots of sketchbooks, notebooks, idea books, and top secret Pinterest boards.
What inspires your work? How did you come to find yourself doing this?
Anything I create comes from what I feel inside. A painting does not say words, but it can share a feeling. It is always my hope that to whomever a painting or mural goes, that feeling was shared or understood by that person in their own journeys and walks in this crazy life.
I'm inspired by my life, my home, my art studio (#yellowbalconyartstudio on Instagram), my family, and the magic I see on this island and beyond. I see and feel the world differently. It can only really be expressed in my work.
Who do you feel is the audience for your art?
Usually women. Empowered, beautiful, powerful women.
What do you want your art viewers to remember most about your art?
I hope we all use art to remember who we are, and how we are all connected. I hope we remember the words and stories that accompany each piece. How important it is that we pass stories and art to each other and younger generations. Art should connect us to both. And remind us of both.
What do you do on a day-to-day basis?
I paint, think, dance, meditate, research, read, ask questions, nap, swim in the ocean, hang out with my husband and kids, do yoga, visit with our guests, work on my computer, organize and mix ideas to come up with new ones or different perspectives.
What has been the most fun in starting this venture?
Any time we create something and put it out there, we are becoming closer and purer to our True Selves. Expression is expansion. Inwards and outwards. That's the best part.
You can see more of Autumn´s work here: Instagram: autumnlaboheme
Facebook/autumnlaboheme