Foodies
SAVAGE CUISINE
Being wild is not a luxury but a necessity of the human spirit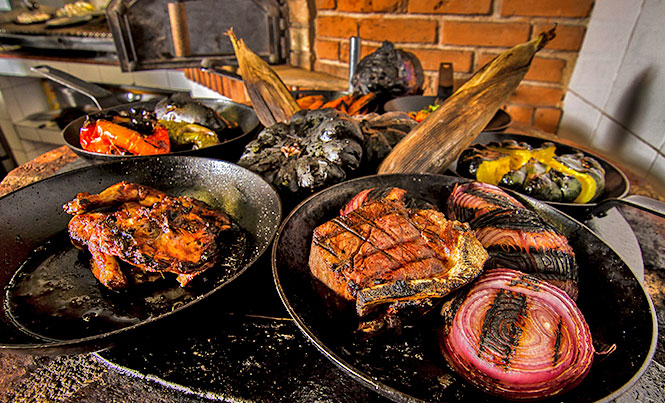 El Zorro Plateado (The Silver Fox) is born from the idea that people need to eat real food. This idea was developed by Alejandro Gámez and Alberto Martínez from Grupo Santanera, and Chef Jair Téllez from Mexico City's restaurants, Merotoro and Amaya. The relationship of these three friends began while they were working together, with great pleasure and success in the design of the kitchen of Almirante Pech and by sharing the same passion for agriculture, fishing, and fresh food. In this new project, they managed to develop a concept that would establish its identity by work mainly with local elements in a simple, irreverent and fun way. It was decided to design a cuisine based on the use of firewood and charcoal, and give prominence to vegetables on the menu, without becoming a vegetarian restaurant.
The proposal of El Zorro Plateado seeks to alter the common paradigms of Mexican cuisine and return to an approach where the main ingredient is the freshness and the integral care of all the products that are handled. The breakfast menu was designed in a way that you can find the common elements of a traditional breakfast but cooked in our particular style, like eggs served in many different ways, *nixtamalized corn, beans and sauces cooked for 15 hours in the stone oven.
For lunch and dinner, the menu is prepared and presented in such a way that you can share dishes at the center of the table and enjoy your vegetables cooked directly on wood fire. Then, finish with some protein from local animals such as  Milk's Roast Chicken, Cabreria steak or a favorite of the house, the Fresh Fish Salpicon served over baked vegetables.
Here you will taste the savage flavor of food cooked authentically. More than a restaurant – it's  an experience!
*nixtamalization: A process by which the corn is cooked with water and lime to obtain the nixtamal which, after grinding, gives rise to the dough that will be used to make tortillas, tamales, etc.