Art & Culture
Street Galleries in Playa del Carmen
Art in Playa del Carmen has two outdoor exhibitions at these downtown locations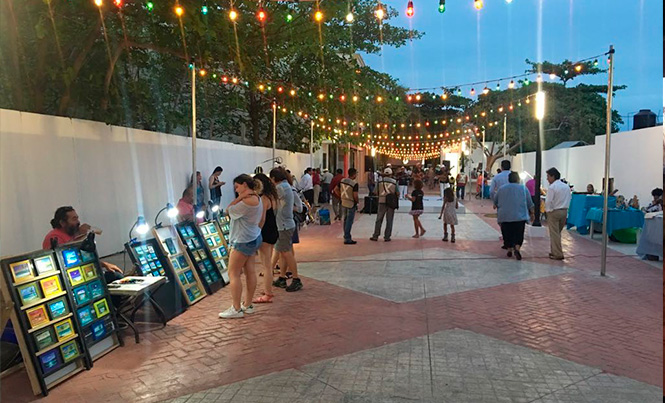 On Playa del Carmen's famous Fifth Avenue, between shops and shopping malls, you will find a happy space for art and visual enjoyment. Every evening, a group of artists gather to exhibit their work on Calle 16. For over ten years, this project by the Department of Culture has hosted local visual artists from around the world, mainly photographers and painters.
The artists who started the group and that continue exhibiting their work include Balam, Angel Ortiz, Dennis Granados, Germán Luis Torres, and Marco Pat. Some of them have enriched their experience in the visual arts abroad, having had the opportunity to exhibit in galleries and cafés.
This group has served as a platform to publicize artists throughout the Mexican Republic, such as Paco Rocha, Curiel, Salvador Peñaloza, Rox Valadez and even artists from other countries. Among them is painter Irina Shchukina of Russia, Miriam Sarmiento of Spain, photographer Gary Dillard from Canada, Italian Malú Matteo and more. Many of them have adopted Playa del Carmen as their permanent place of residence, while others only come for a while.                      
 On Calle 16, you can find small landscapes painted with great skill by Balam, as well as large-format abstracts, faces of famous figures, and innovative techniques like those of Daniel Violante, or the shapes and colors of Don Eduardo García. You will also find high-quality landscape photography of the Riviera Maya by Salvador Peñaloza, and other artists. Another space with something similar is the Callejon de Arte (art alley) on Calle 6 bis, between Avenues 10 and 15 where, in addition to paintings, you can find handicrafts, jewelry made of coral, baskets, polychrome wood, macrame, wooden items, bags, and many other beautiful things made by locals. Both projects are currently under the coordination of Ivan Rosales, Coordinator of Visual Arts of the Teatro de la Ciudad.