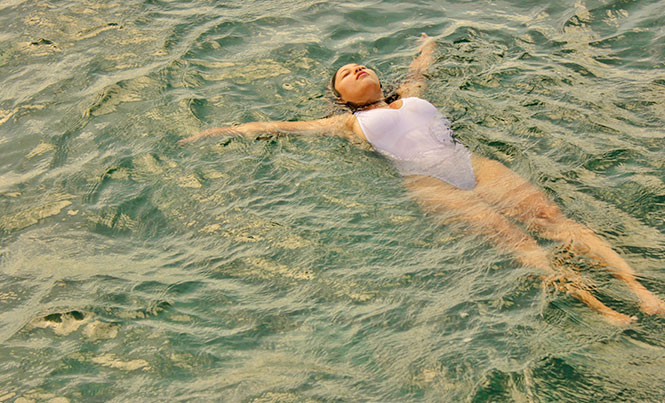 Like that inspirational Baz Luhrmann theme says: Wear sunscreen. Temperatures will stay above 30 °C (86 °F) for the whole summer with a few occasional showers. We recommend using a 50+ sun protection factor (SPF) because sunbathing won't be optional around noon.

Stay hydrated. Drink water, and when you have had enough, get yourself a real summer drink. For those looking for a healthy option, try Blanca Flor juices and milkshakes – a personal and local favorite in the region. Only experts know about this place. It's not near any popular landmark, so a quick Google search will help to find the exact location. It's totally worth it, clean and safe. Unico & Fresco also offers a great selection of juices too in three different locations: Facebook/@unicoyfresco.

Go for a swim and have a party on the beach. Mandala Beach will be presenting their Tropical Feelings parties every weekend. They have the coolest beach and pool parties in Cancun, with great DJs and promos. This is one of the most popular spots in Cancun so it's the best place to show off your summer body (every single body is a summer body during the summer)! They have day and night events, so there's no excuse for not dancing barefoot on the sand!

What about staying hydrated during the night too? Amarula Con Acento Tropical is an avant-garde mixology bar in the heart of Cancun. The place is beautiful and the music is always in tune – fun yet sophisticated. Wednesday is ladies' night, so you can try their new cocktail menu. They have a unique way to mix seasonal fruits that you are going to fall in love with. Mezcal cocktails are a must. For reservations call 8848046 or visit their official page, Facebook/@AmarulaConAcentoTropical.

Indoor activities: Puerto Cancun Marina Town Center Mall was recently opened. It's huge and has a new 4K IMAX movie theater. It's basically the biggest and highest definition screen in Cancun, so it's the perfect time to catch all of the season's movies!