People
Wendy Cervantes
Meet a proud Mexican photographer and sea turtle enthusiast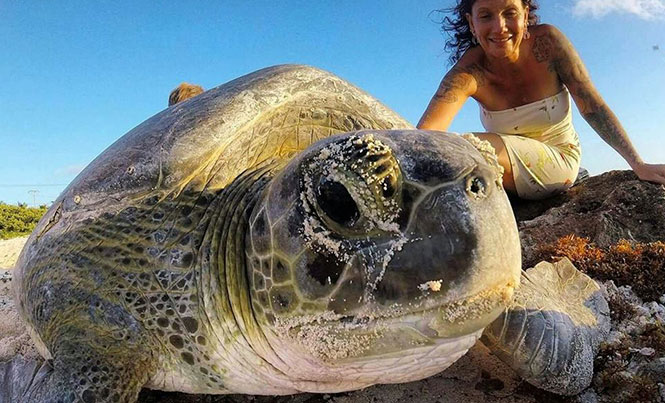 What is your full name?
Wendy Carolina Cervantes Pool
Where are you from?
Merida, Yucatan.
And how long have you lived on Isla Mujeres?
Since I was one month old, 29 years ago.
Why did you move to the island?
For my father's work. I am very grateful that this happened because I love the sea and in Merida there is no sea. But I love the culture of Merida; it is very rich in culture and people are very kind, but ultimately I love Isla Mujeres.
What do you do for work?
I work in a restaurant and on my independent photography; at times, I also design.
What makes you proud to be Mexican?
Mexico is a country full of beautiful things, including its people, its culture, its color, its gastronomy, and its beaches. Mexico has great treasures such as food, folklore, culture, and tourism. It's made up of successful people. Something that identifies all Mexicans is their talent and desire to succeed. I am very proud to be Mexican and that my roots are Maya!
We are the first point of Mexico the rays of the sun touch."

Wendy Cervantes
What would you like the rest of the world to know about Mexico?
That there is much to see and enjoy. We have 111 magic villages. Isla Mujeres is one of those magical villages. We are the only island that is, and this is something that says how wonderful it is to live here. I wake up in the morning surrounded by the beauty of Mother Nature, the blue and green of the ocean. One of the many advantages of living on this island is the nesting period of sea turtles.
I am fortunate to be able to follow this process closely. Part of my commitment to this cause is to help keep our beaches clean and respect the hatching areas along the beach. I also work with Tortugranja that is dedicated to preserve the sea turtles since we are at an important point for the season of mating and nesting of these wonderful beings. We are the first point of Mexico the rays of the sun touch. Our North Beach is in seventh place internationally for turtle nesting and first place at the national level.
All of Mexico is certainly beautiful and we enjoy that every state has its own thing. I am proud and love living in the Caribbean.
See more of Wendy's photography at Instagram/gwencervantes or on Facebook/GwenCervantes