Tulum
Tuk Tulum
An special evening in Tulum celebrated GMB's Tuk condominium project, which will be delivered in October 2019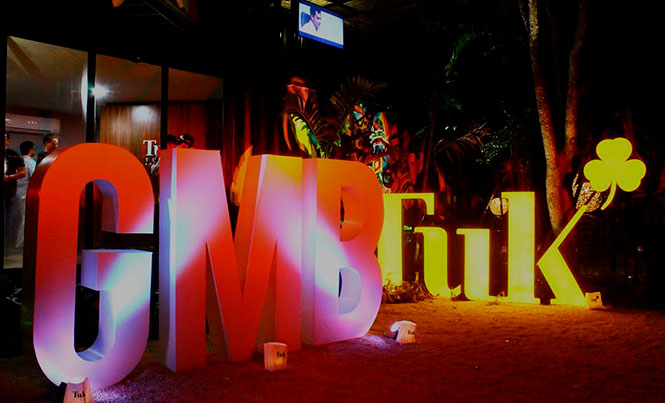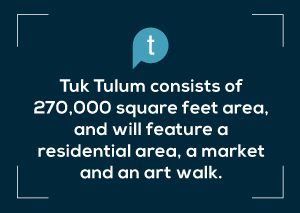 On the evening of October 12, The Playa Times was invited to the sales office of GAMA Master Broker's Tuk Tulum project for an evening of celebration and information. A mixture of GMB employees, prospective buyers, real estate agents and media arrived just before sunset to socialize in the rear of the building, which had been converted into a large backyard party.
Before venturing into the party, we made our way to the main office to learn more about Tuk. A large model of the development was on display, and a staff member explained it in detail to those of us gathered around. Tuk Tulum is in ​​a 270,000 square feet area, and will feature a residential area, a market and an art walk. The residential units include studios, one and two-bedroom apartments and penthouses, which come fully furnished. Among the amenities are rooftop pools, an amphitheatre,  an outdoor spa, and a gym.
One of the big selling points is the boho-chic Full Market, which will have over 60 boutique shops. These will range from organic stores to top-class restaurants. The Art Walk, a project involving renowned artists, is their take on the urban art of the Wynwood district of Miami, which is an outdoor museum displaying work from the world's best-known street artists.
The event was like a who's-who of the Riviera Maya real estate industry. I recognized many familiar faces from Playa del Carmen, from sales agents to brokers. Most of them were quite excited at the potential for investment in this development, citing the price and the centralized location just off the highway. A presentation followed by several key members from the GMB team, who thanked everyone involved in the project and declared their excitement.
The evening wrapped up with a delicious dinner and the party continued late into the night. The delivery date for the project is for October 2019, but based on the reaction seen among those in attendance, there is likely to be much energy dedicated to selling these units in the months ahead and we can't wait to see this captivating development finished.