Entertainment
Springtime and Easter in Playa del Carmen
Welcoming the spring with pre-Hispanic dances and fun for all the family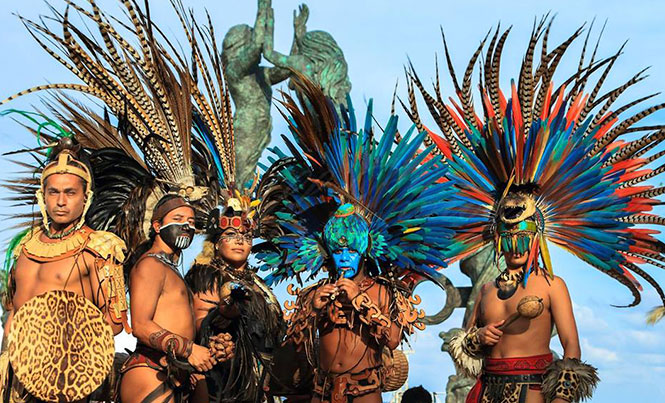 On March 20 Tlahuiztlampa offered a celebration of this spring equinox! It was held at the Fundadores Park in the center of Playa del Carmen throughout the day. There were pre-Hispanic dances with live music in honor of the sun, thanking the four cardinal points with flowers and copal.
This celebration was very important for the pre-Hispanic people because it meant the rebirth of life, where a new cycle of fertility begins for all species, the crops re-green, improving the living conditions for everyone with health and prosperity, giving rise to a perfect balance.
The Tlahuiztlampa group wants to preserve these traditions, they have been together 10 years and some members have been dancing since they were little. The members are from different parts of Mexico and they are united by the love of the pre-Hispanic traditions and culture, especially the Aztec.
If you want to contact them for other events, call them at 9841360342/9841204828.
Enjoy this Easter with your family!
The food truck area of ​​Playa del Carmen Mi Ranchito Playero with their Food Truck Village located in federal highway and Calle 5 south, is preparing a very fun event to celebrate the Easter festivities on Sunday, April 1st with many surprises and activities.
This is their calendar of activities:
11:00 – 13:00 am: Decoration of Easter eggs for the little ones

13:00 – 14:00 pm: Mask paintings for kids

14:00 – 17:00 pm: Games for the whole family

16:00 – 17:00 pm: Find the hidden eggs in the Food Truck Village area

17:00 pm: Break the piñata

17:45 pm: Refreshments from the different food trucks of Mi Ranchito Playero for everyone
For more information contact them through their social media! Mi Ranchito Playero and Toro Bike Playa.
Enjoy it to the fullest with your friends and family!