Art & Culture
Art Exhibition by Mercedes Bautista at Playa del Carmen's Galeria 18
Meet Mercedes Bautista, the Spanish-Mexican artist who is exhibiting her work in Playa del Carmen's Galeria 18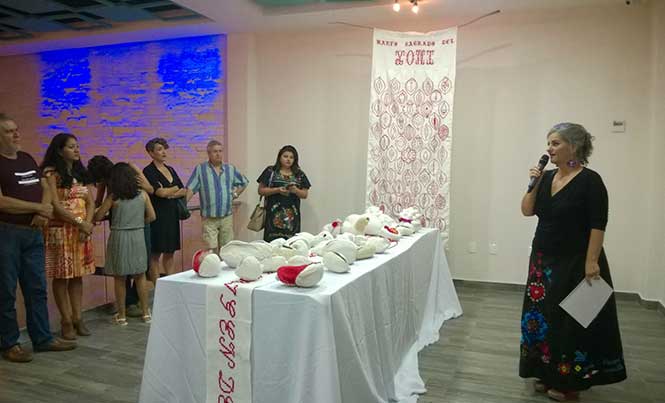 Artist Mercedes Bautista will present her latest work through a new art exhibit here in Playa. The Spanish artist with the soul of a Mexican took an interest in our culture after arriving here many years ago for a research project about textiles. This latest show is a product of inspiration and interest in the artistic and symbolic elements of the original towns of Mexico. "It is like awakening the light of conscience," Bautista told us. "I am very interested in roots, the essence of things, and looking at other cultures that can teach us something."
Although her passion is painting, Mercedes lives her art by using every medium and material that she can. In her search to find ways to express herself, she has combined her talents in sculpture, ceramics, textiles, photography and visual poetry, as she calls it. Mercedes considers herself a feminist, searching for equilibrium, opportunities and the freedom to be human, as a woman in this world.
I am very interested in roots, the essence of things, and looking at other cultures that can teach us something."
Her work has been exhibited in different locations worldwide, in Spain, Portugal, France, the United States, and of course Mexico. This art exhibit, entitled "Donde Habita el Corazón del Cielo"(Where the Sky's Heart Resides), has been shown in other spaces in Mexico and Playa. This time she will be hosted by Galería 18, which is located inside the well-known Playa del Carmen restaurant, Evass.
Mercedes is already recognized for her work as a poet. Her art goes beyond mere aesthetic beauty, it is a commitment to herself, a personal diary and another voice that speaks about what it means to be a woman, both as a scientist and an artist.