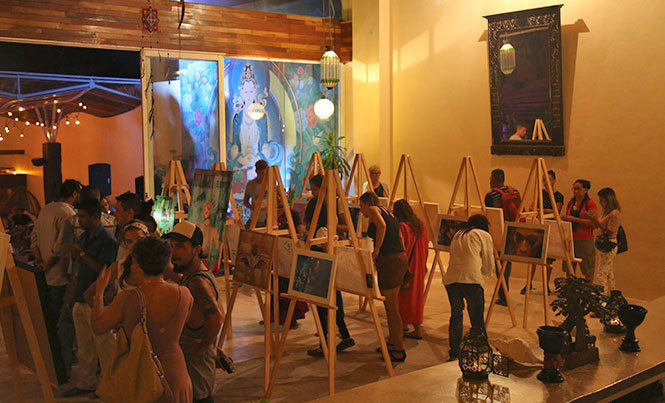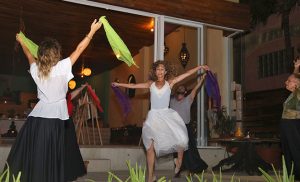 Were you at the opening of LiberArte last Thursday at Inti Beach? If not, you sure missed a great evening! No worries; you can still go to the exhibition featuring nine international artists if you hurry – the installations will be there up until Wednesday 23rd until 11pm.
Naiara Porras Rentero started to volunteer with Playa Pride in March 2017 and organized this amazing event. LiberArte is a play on words in Spanish to help "liberate" people from prejudices through art. The woman behind the event comes from a small village in Spain. Naiara is currently writing the last chapter of her dissertation that focuses on women's empowerment and issues related to the LGBTIQ community.
For the event, she wanted to do something different and more interactive than the art exhibitions we are used to. She found Vanessa Hylande from the Metropolitan Opera Ballet of NYC.  Naiara is a huge fan of contemporary dance, so she asked Vanessa if she wanted to participate in the event. "Her attitude and energy were amazing", she says. Vanessa's band StageGarden also performed.
Altogether, it was a great combination of painting, photography, contemporary dance and live music, and everybody was delighted. For the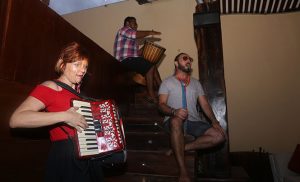 last few years, Naiara has tried to be more involved in issues that she considers important. "When I was living in the United States, I was the president of the chapter of the United Nations of the area where I was in (Bluegrass Chapter). There I focused more on issues related to women's empowerment and also immigration, due to what was going on in the United States at the moment. My focus though is both women's empowerment and the LGBTIQ community. As a lesbian woman, I identify with both issues, and I want to help in both areas", she states.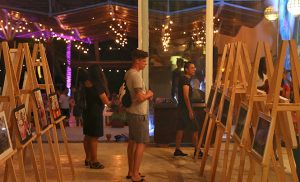 We are definitely looking forward to knowing more about that mysterious woman who came to Playa to change things! We will have a full-on interview with her very soon. In the meantime, run to Inti Beach on the beach between 4th and 6th street to catch LiberArte.