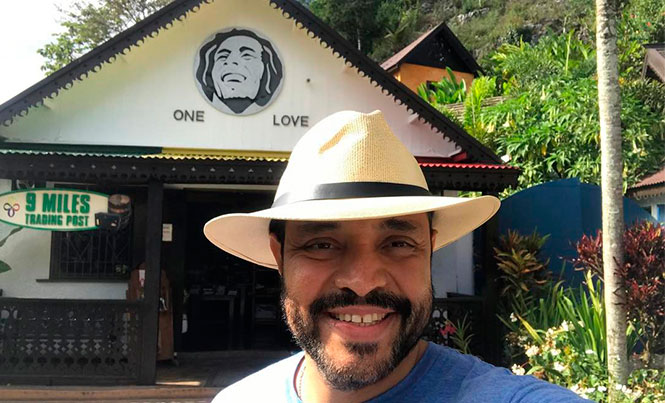 Arthur Dohmer is the pseudonym of Arturo Dominguez, a professional filmmaker and one of the most prominent wedding photographers in Cancun. Born in Acapulco, he's a proud husband, the father of a 5-year-old boy and a really hard working man. I first met him about 10 years ago when he was making a  short horror film as part of a creators award that he won.
How did you end up living here?
I moved in 1994, after I finished college. I wanted a quiet place to start working on audiovisual productions. I came with my mom a few years before, when I was a teenager, and I loved it. So it was my first option.
You are now a renowned professional photographer and videographer. How do you contribute to Cancun?  
Working, man! Taking care of my family, and being a productive person. I mean, being a professional all the time. And of course, taking care of my immediate surroundings, my house, the park where I go with my boy. Of course, I want a clean space, because I want him to have a quality environment.
What are your positive and negative experiences in Cancun?
I've been here for years so I love this city very much. It is a great place to grow professionally and make good money if you work hard, like no other place in Mexico. It's also a cosmopolitan city; it gave me the chance to meet people from all over the world and have a wider perspective on life, and improved my work too. The negative news is more recent. In the past five or six years two main aspects that I think have to do with bad administrations have grown: violence and ecocides. Oh, and traffic jams!
Do you expect things will get better?
Things can and will get better. There are elections coming, so that's an important opportunity. There are even independent candidates which is great, because it finally gives a sense of community to public service. There are multiple WhatsApp or Facebook groups of people working together to improve life in Cancun without depending on the government. People have finally realized the only way is to work as a community.
What is your message for all dads and sons living in Cancun and Riviera Maya?  
Take care of your children! Give them education. Teach them to have basic good manners, to be grateful, to be respectful to other people. Being nice opens doors in every corner of the world. I want my son to do whatever he wants, but with ethical values – caring about other people's work and time. I'm very proud when I see him say please and thank you.
Having a child isn't a game, you have to be prepared and know that this is a huge responsibility. You have to be physically, psychologically and economically prepared! And kids, listen to your parents, once day you will understand. We do our best, but we don't know everything.