Akumal
What is Going on in Akumal?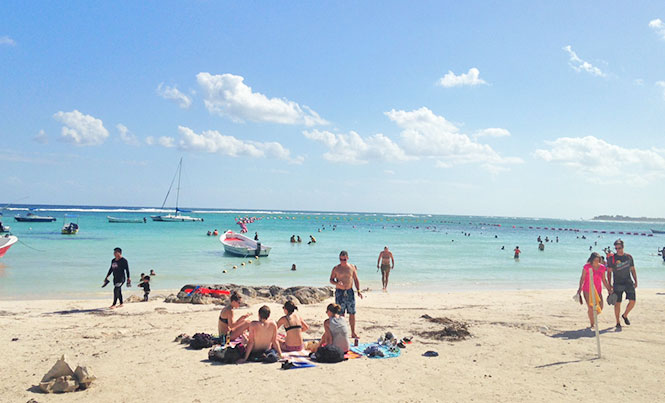 The confusing battle for beach access rights continues
Tourists have been going to Akumal for years to snorkel with the sea turtles that feed on the seagrass in the bay. Over the past few years, it seems that the number of tourists and tour groups has exploded, and tour groups, hotel owners, and the local people living in Akumal have been fighting over beach access rights.  Now that fight is directly impacting tourism.
The Akumal Ecological Center (CEA), has been in a dispute with local boating service providers and locals for years, which has intensified recently for control of the area and beach access.
Residents of Akumal blocked the federal highway recently to stop tourists from going to the beach, which according to businesses created a loss of more than 15 million pesos. They also tore down a metal fence and a bust honoring Gonzalo Guerrero.
The CEA has previously been accused of demanding a $20 USD donation per person to local cooperatives that would allow entrance to the bay. Fernando Gamboa, representative of the Neighborhood Association of Akumal, explained that the community is united to confront the CEA. "I doubt that we will be able to come to an agreement with them, and we will have to denounce them, but as a community, not individually."
He reminded us that the access has been free for more than 40 years and is not subject to modification. "By law, the community access has become a right, they can't stop people from going to the beach. On January 20, 1995, the Diario Oficial published that Mr. Pablo Bush, now deceased, left entry free to the public".
However, according to the CEA, the Director of Urban Development doesn't acknowledge public access. "It has never been closed. Informal vendors have been asked to use the main entrance, and the old road is only for residents of Akumal," explained spokesperson Rafael Perucho.
"Tourists, as always, are passing through without anyone stopping them, those stopped were vendors and those destroying property," he clarified.
In order to stop free access to the area, a lawsuit was filed with the Public Prosecutor's Office.
The closure of the main entrance provoked losses to legally established businesses and restricting free entrance and exit for visitors, blocking tourists who were trying to get to the airport, as well as people who were stuck for hours. While the blockades have been lifted, it appears that the dispute will be ongoing and fought in the courts, not just on the streets.