This Akumal attraction has two special characteristics that bring visitors from near and far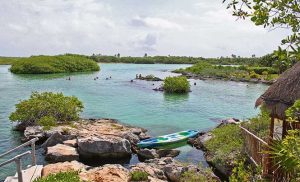 Would you like to visit a sculptural garden and a valuable lagoon for our ecosystem at the same time? If the answer is yes, you need to discover Yal-Ku in Akumal!
Yal-Ku is different from anything you have experienced in the Riviera Maya. A very unusual phenomenon takes place here. The lagoon mixes fresh water with salt water, because at a certain point it becomes an underground river that flows into the Caribbean Sea. This is known as an estuary.
Estuaries are biologically valuable as they are essential ecosystems for the breeding of a wide variety of marine species. This habitat serves a nursery area that ensures the survival of thousands of species in their first phase of development. It allows them to grow strong and safe, away from potential predators during their transition to the sea.
It is amazing to snorkel here. You can admire a beautiful underwater landscapes with a multi-colored parade of fish that occupy these waters.
Another reason to visit Yal-Ku is that, in the surroundings of this lagoon, you will find graceful bronze sculptures, created by the Costa Rican sculptor Francisco Zúñiga. He was one of the most recognized artists of the 20th century, known for his modern and realistic style.
Some sculptures are more hidden than others, so it is a good idea to venture around the lagoon until you find them all. You will even find a couple on top of the rocks inside the lagoon!
It is recommended to arrive early, because the lagoon has a limited number of visits per day and Sunday is the busiest day.
Enjoy your trip!
Location: Yal-kú is in Akumal, 3 km from the entrance to the beach.
Prohibited: repellent, sunscreen and food (but, there is a restaurant).
Schedule: every day from 8 a.m. to 5 p.m.
Entry cost: $ 14 USD.