Akumal
Little Treasures in Puerto Aventuras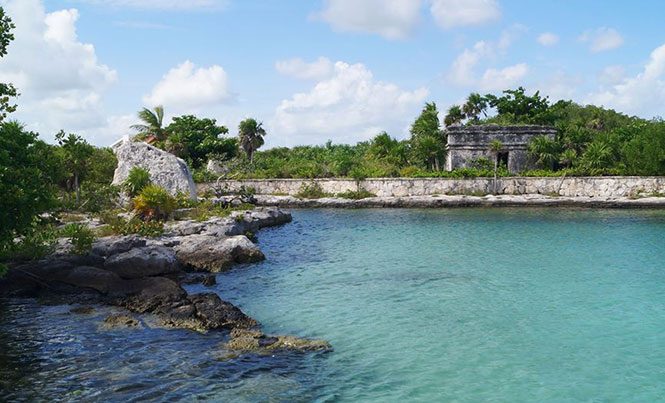 How many times have we driven on the highway on the way to Tulum and passed by Puerto Aventuras wondering what this community has to offer? What adventures or treasures it holds?
It can be easy to see it as just another neighborhood, but the truth is that Puerto Aventuras is a very interesting place to visit, and a great place to live.
First, the marina in Puerto Aventuras, which offers full-service, is the perfect place if you love fishing, sailing or boating. Plus, Puerto Aventuras is one of the best destinations for deep sea fishing. But even if you don't enjoy fishing or sailing, the docks and canals are a beautiful setting for an evening walk, and the views will soothe away the stress in no time. It is common to see the neighbors walking their dogs or just enjoying a peaceful stroll along the canals.
Another treasure is a stunning small cove with a hidden Maya ruin. Usually reachable by boat, the current works in the new phase 4 of Puerto Aventuras have allowed an access but it's practically unknown except to some of the residents. So, if you have a friend living in Puerto Aventuras, you can go and take a look. Be aware that entering phase 4 is restricted, and a resident ID card is required to have access, but the view of this amazing little construction is worth trying. Also, if you're easily tempted by the Caribbean waters, bring a swimming suit!
Now, if you want to enjoy incredible views, you should visit the bridge. Located on Bahía Kantenah road, this bridge offers a great view of the lagoon and the beach. You can also see the waves breaking along a rocky shore section, offering a view rarely seen in the Riviera. Make sure to bring your camera; if you're lucky you'll see a sailboat in the distance to capture the perfect post card.
These are just three examples; visit Puerto Aventuras and discover your own treasures!
Interested in Puerto Aventuras real estate? Contact me at info@topmexicorealestate.com